CAVERNS OF SONORA - 34 Miles
A subterranean paradise filled with incredible and famous formations, which nature has been creating for millions of years. It is considered to be one of the most beautiful and unusual caverns in the United States, and is home of the crystalline "Butterfly", a trademark since 1960. The Caverns of Sonora are located less than 30 miles east of Ozona, and can be reached by taking Exit 392 on Interstate 10. The caverns are open daily, including Sundays, and have picnic grounds, RV hook-ups, shower facilities, a gift shop with refreshments, and The Covered Wagon Dinner Theater where performances are scheduled each Friday and Saturday evenings from mid-June through mid-August.For more information: cavernsofsonora.com.
---
OLD ICE HOUSE RANCH MUSEUM - 36 Miles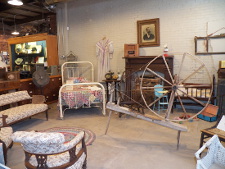 Just a half hour from Ozona in downtown Sonora, this collection of memorabilia featuring a wonderful array of artifacts to educate and entertain, this museum teaches about ranching in the late 19th and early 20th century in this area. Also featured is a special exhibit about Will Carver, the member of the "Wild Bunch" gang that met his demise on the streets of Sonora. You'll leave with a new appreciation of the pioneers that developed this rugged area and how the discovery of a deep water well drilling technique opened this parched prairie to sheep, cattle and goats. There is no admission fee,but donations are appreciated and while there you can also browse the unique gift shop for souvenirs.
Museum hours: Wednesday-Friday 1:00-4:00 pm, Saturday 10:00 am. to noon and 1:00-4:00 pm. Special group tours can be arranged by calling 325-387-5084. For more information: old-ice-house-ranch-museum.com.
---
EATON HILL WILDLIFE SANCUARY - 36 Miles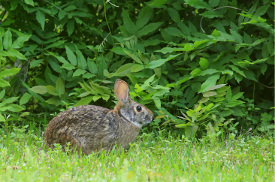 Located less than 40 miles east of Ozona, Eaton Hill Nature Center sits amid 37 acres that showcase the extraordinarily diverse plants and wildlife of the area. The Nature Center and its 3 miles of adjacent hiking trails provide unique educational and outdoor experiences for young and old including interpretive displays, hiking, Texas wildflowers, wildlife viewing, butterflies, fossil displays, replicas of Native American culture, guided tours (by request), solitude and personal discovery. Part of a major migratory flyway, there are several areas dedicated specifically to bird watching. The Nature Center is open Friday-Tuesday from 10:00am until 5:00pm, and closed on Wednesdays and Thursdays. Trails are open everyday from sunup to sundown and are walking only. For more information: eatonhillnaturecenter.com.
---
X BAR RANCH NATURE RETREAT - 47 Miles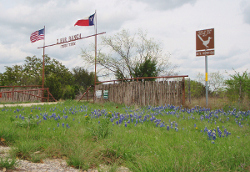 The X Bar Ranch Nature Retreat is a great place for an outdoor adventure. You can set up a base camp and explore the area, or bring your telescope and spent an evening studying the stars. Many native birds, wildlife and plants are found here where the Edwards Plateau meets the Texas Hill Country. For more information: xbarranch.com.
---
ALLEY OOP AND DINNY THE DINOSAUR - 55 Miles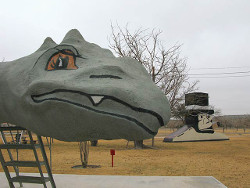 Themed around the famous "Alley Oop" comic strip, the Alley Oop Fantasy Land is proud to honor V.T. Hamlin and the characters he created. A former resident of Iraan, Hamlin began the comic, including Dinny the Dinosaur, in the Depression and it has continued for years. The park and museum feature a 65 foot long statue of "Dinny" as well as artifacts from the area. For more information: www.iraantx.com

---
The summer home of Texas' largest concentration of breeding and nesting Black-chinned Hummingbirds, the Hummer House is only a little over an hour away. The deer are plentiful and browse through the thickets, and in September the number of wild turkeys migrating through can number into the hundreds. Whether you are an expert bird-watcher or only someone that enjoys beauty, the Hummer House offers a unique experience in wildlife viewing. For more information: www.hummerhouse.com
---
CHRISTOVAL VINEYARDS - 81 Miles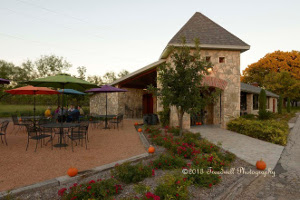 Established in 1985 with Cabernet Sauvignon and Riesling varietals, the Christoval Vineyards continue to expand their varieties with plantings of Tempranillo, Mourvedre and Vermentino. With a 17th-century country French style wine tasting room, as well as other red and white varietals sourced from Texas growers including Merlot, Viognier, Syrah, Chardonnay and more, the Christoval Vineyards have a little something for everyone. For more information: www.christovalvineyards.com
---
MOUNT CARMEL HERMITAGE – 83 MILES
The Hermits of Mount Carmel live a life of silence, solitude, prayer and penance. The men of this community live in separate dwellings around a central chapel, following the original Carmelite rule, which dates back to the early 1200's. Masses are held on Sundays and Solemnities at 9:00 a.m., and daily, Monday through Saturday, at 6:30 a.m. All are welcome to attend. For more information: www.carmelitehermits.org
---
PECOS RIVER HIGHWAY BRIDGE – 93 MILES
Completed in April 1957, the Pecos River Bridge spans the canyon at the junction of U.S. Highway 90 and the Pecos River. The height above the river varies with the level of the Amistad Reservoir but the bridge is approximately 273 feet above the water level. It is the highest highway bridge in Texas, and is actually the fourth bridge built by the Texas Highway Department to cross the lower Pecos River Canyon. Earlier bridges were washed away in the floods of 1923, 1954 and 1955. Consisting of two central piers with one 1040 deck truss unit, one concrete slab span and one 240-foot continuous plate girder span, the present bridge is 1,310 feet long and carries approximately 1000 vehicles per day. A peaceful picnic area overlooks the canyon on the east side of the river, offering excellent views of the bridge and the mouth of the Pecos where it feeds into the Rio Grande River.
---
SEMINOLE CANYON STATE PARK & HISTORIC SITE - 93 Miles
This historical park is located less than two hours from Ozona, just a short distance from the confluence of the Rio Grande with the Pecos River. The canyon was probably named for the Seminole-Negro Army scouts stationed at Fort Clark. In the canyon is Fate Bell Shelter, which contains some of North America's oldest pictographs believed to be painted as long as 4,000 years ago. Guided tours are provided to take visitors into the canyon to see these fine examples of rock art.
Facilities include: Park Headquarters/Visitor Center, Campsites, Picnicking Areas, Hiking Trails, Wildlife Observation and Photography, and Bicycling. The park is open 7 days/week year round with guided tours into the Fate Bell Shelter at regular times Wednesday through Sunday. Points of interest nearby to the park include: Judge Roy Bean Visitor Center, in Langtry; Lake Amistad National Recreation Area; Whitehead Memorial Museum and The Old Perry Store, in Del Rio. For more information: tpwd.state.tx.us/state-parks/seminole-canyon.
---
DEVIL'S SINKHOLE STATE NATURAL AREA - 102 Miles
The home of the unique Devil's Sinkhole amphipod, the site is also the largest on-chamber cave in Texas. The Sinkhole is the seasonal home of about 3.4 million bats who ascend every evening in an amazing tornado! The bats may be viewed during evening tours only. The cave is also the most completely scanned cave in the world. Tours are led by trained guides and reservations are required. No tours during hunting seasons. For more information: www.tpwd.state.tx.us/state-parks/devils-sinkhole
---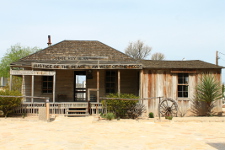 JUDGE ROY BEAN VISITOR CENTER - 110 Miles
Justice was swift and Judge Bean's word was the Law West of the Pecos. The first Justice of the Peace in Pecos County, the judge was a legend even in his own time. Preserved by the Texas Department of Transportation, the original Jersey Lilly saloon-courtroom still stands in Langtry, providing travelers with a historic view into the past. Besides the Jersey Lilly, visitors are treated to a beautiful cactus garden as well as the Judge's "Opera House", once his home. Inside the Visitor Center, dioramas portray Judge Bean's illustrious career. For more information, call 432-291-3340.
---
LAKE AMISTAD, DEL RIO - 126 Miles
For the person into water sports, Lake Amistad (which means friendship in Spanish) boasts 100 square miles of surface water filled with millions of stripers and Florida bass, stocked by Fish and Game Department officials so that anglers are practically guaranteed a catch. Clear visibility and a great variety of depths make this a diver's paradise that some call the finest scuba lake in Texas. It is also wonderful for water-skiing, board-sailing or canoeing with hundreds of hidden coves and natural harbors.
Of course, Del Rio is situated on the Rio Grande River and has direct access to Ciudad Acuna, Mexico. Del Rio has colorful historic homes, the Whitehead Memorial Museum-housed in a restored trading post and is the home of the burial site of the real Law West of the Pecos, Judge Roy Bean. It also has the magnificent Val Verde Winery, which is the oldest bonded vineyard in Texas. For more information: nps.gov/amis/index.htm
---
BALMORHEA STATE PARK - 164 Miles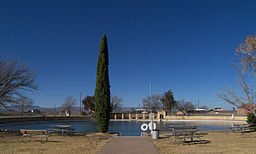 West of Ozona, near the Davis Mountains, the Balmorhea State Park showcases the San Solomon Springs. For thousands of years, the springs have provided fresh water for Native Americans, Spanish explorers and soldiers, pioneering families and area farmers. Today the deep pool over the springs attracts both swimmers and divers. The irrigation canals within the park contain several different fish species, two of which are endangered. Also, there is a special replicated desert wetland, called a cienega, with an underwater viewing window to the habitat beneath the surface. For more information: www.tpwd.state.tx.us/state-parks/balmorhea
---
FORT DAVIS NATIONAL HISTORIC SITE - 195 Miles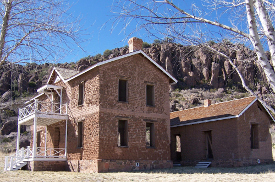 First established in 1854, Fort Davis was named in honor of then Secretary of War, Jefferson Davis. Built to protect travelers along the San Antonio-El Paso stage route from raiding Comanche, Kiowa and Apaches, the fort is one of the best remaining examples of a restored frontier fort in the country. The U.S. Army used the fort as a base of operations for its camel experiments, successfully using the camels to traverse the arid country with less food and water than used by other transport animals. Manned by both Union and Confederate troops, the fort was also home to the famed Buffalo Soldiers and 2nd Lt. Henry O. Flipper, the first African-American graduate of the United States Military Academy at West Point. In its day, the fort's medical facilities were state of the art, and there are interesting exhibits with many period medical devices, including a fully furnished Post Surgeon's office. For more information: www.nps.gov/foda/index.htm
---
BIG BEND NATIONAL PARK - 206 Miles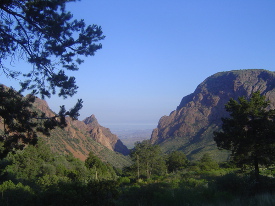 Just a few hours drive from Crockett County is one of the United States most incredible National Parks, the Big Bend National Park. This area is rich with history and activities, which include: Fort Davis National Historic Site, McDonald Observatory, Museum of the Big Bend, Sul Ross State University (in Alpine), and the Chihuahuan Desert Visitor Center. Some of the beautiful state parks in this area include: Balmorhea State Park, west of Fort Stockton; Fort Leaton, southeast of Presidio; Davis Mountains State Park and Indian Lodge on Highway 118; the Warnock Center, east of Terlingua; and the Big Bend Ranch State Natural Area between Lajitas and Presidio. For more information: nps.gov/bibe/index.htm

Print Friendly