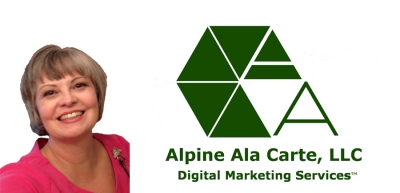 Business of the Month
Ozona Chamber of Commerce
recognizes
Alpine Ala Carte, LLC
as our Business of the Month

Alpine Ala Carte, LLC was formed in 2016, but it actually has a long history in Ozona. Owner, Cathy English and her husband, Ben, came to Ozona in October 1986, when Ben was stationed by the Department of Public Safety as a brand-new State Trooper. They quickly realized Ozona would be a good place to remain as they prepared to start a family. They bought their home, and were soon blessed with two healthy boys, Levi & Ethan.
Once both boys were in school, Cathy went to work as the Principal's secretary at the Intermediate School where she put her Angelo State University computer science degree to good use. The schools were changing over to Internet based record keeping and Cathy jumped in with both feet. Four years later, she returned to college at West Texas A&M University in Canyon where she earned her teaching certificate.
Throughout the years, she taught on all the campuses, from 1st grade to seniors, ending her career after 17 years. During that time, she taught 1st grade, 7th grade Math and Reading, 8th grade Math and Art, and finally 7 years at the high school where she taught and coached Computer Science and Robotics as well as Engineering and Principles of Technology. She was constantly challenged to continue studying to keep up with the ever-changing technology, taking additional courses at Angelo State University and the University of Texas as well as other curriculum-based trainings provided by the school.
When the position of Interactive Media Coordinator opened at the Ozona Chamber of Commerce, Cathy was excited to interview for the job. Over the next two years, she worked closely with Chamber President, Shanon Biggerstaff, to support the expanded focus on the website, social media marketing and more. This new and challenging job turned out to be a perfect fit for Cathy. Some of the projects she is particularly proud to be a part of was the development of the www.Ozona.com/Travel-Itinerary and www.Ozona.com/Interesting pages and the creation of the color brochure for the Crockett County Interpretive Trail.
After Ben and Cathy decided to move back to Ben's childhood home in the Big Bend area, she was sorry to have to say goodbye to working with the Chamber. But, a conversation with her daughter-in-law Rachel, who works for the Philadelphia Children's Hospital from out of state, convinced Cathy that she could work remotely, too -- from Alpine. Thus, Alpine Ala Carte, LLC was born. With the gracious support of the Ozona Chamber and the Angelo State University Small Business Development Center, systems were put into place to make this dream become a reality.
Now, almost three years later, Cathy finds herself very busy creating and assisting with the maintenance of websites for many Ozona businesses and organizations, including the First Baptist Church, Crockett County Public Library, Ozona Cable & Broadband and the Ozona Chamber of Commerce. Cathy also does graphic art work, creating flyers and other advertisements as well as social media marketing posts on Facebook, Twitter, Google+ and more. Cathy has expanded her business to other West Texas communities including Fort Stockton, Big Lake, Alpine and more.
Additional services offered by Alpine Ala Carte, LLC include on-site consultations and basic computer training for individuals and small groups. Recently, she has also added video productions services, creating short marketing videos for business advertisement on the Internet, including Facebook and YouTube.
The Ozona Chamber of Commerce would like to recognize Alpine Ala Carte for the commitment to provide the best possible service to our local businesses.
If you think your business might benefit from these services, she encourages you to visit her website www.AlpineAlaCarte.com or give her a call at 325-226-1965.