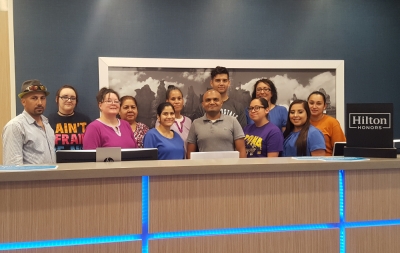 Pictured left to right front row: Ahmed Hmod, Kelle West,
Tulsi Patel, Amit Patel, Viviana Villareal, Amber Dehoyos,
Oneida Hernandez.
Pictured left to right back row: Charli West, Gloria Onate,
Michelle Salas, Joseph Martin, Griselda Tambunga
Business of the Month
The Ozona Chamber of Commerce recognizes the Hampton Inn by Hilton - Ozona as our Business of the Month
Opening its doors in August 2017, the Hampton Inn by Hilton Ozona is owned by and developed by Ozona Hospitality Group, LLC. "We are pleased to be a part of the lodging community in Ozona. We have everything our guests need to ensure a happy and memorable stay," said Amit Patel, General Manager. "We are a global mid-priced hotel chain known for providing travelers with our signature Hamptonality service. We strive to offer consistent and quality accommodations with value-added amenities such as a spacious meeting space, complimentary Wi-Fi, a 24-hour fitness center, business center, guest laundry, and a seasonal outdoor pool and patio area."
The 72-room hotel also offers guests a free hot breakfast featuring delicious waffles, On the Run™ Breakfast Bags for the on-the-go traveler and a 24/7 TREATS shop. Each guestroom includes HDTV, free in-room movie channels and coffeemaker.
"My wife Tulsi, daughter Amia and I have truly enjoyed getting to know the people in Ozona. We have another child on the way, and Ozona has quickly begun to feel like home. We are building a base of guests, and travelers are now aware that we are here. We are also enjoying serving the residents of Ozona and their families. We welcome the opportunity to host your class or family reunion, qui'nceanera, wedding, or any event. We have eager team members ready to serve you daily," said Amit.

Hampton by Hilton has long been known for its unique and unmatched approach to hospitality. Team members proudly exhibit a unique culture described as Hamptonality. This term is defined by each hotel's approach to friendly customer service, anticipation of guests' needs, and establishing an authentic, friendly and caring culture.
Hampton Inn by Hilton Ozona is part of Hilton Honors, the award-winning guest-loyalty program for Hilton's 14 distinct hotel brands. Hilton Honors members who book directly through preferred Hilton channels save time as well as money and gain instant access to the benefits they care about most, such as an exclusive member discount, free Wi-Fi and a flexible payment slider that allows members to choose nearly any combination of Points and money to book a stay. Members can also redeem their Points for free nights, to gain access to unique events through the Hilton Honors auction platform or to make purchases at Amazon.com with Amazon Shop with Points.
The Ozona Chamber of Commerce would like to recognize the Hampton Inn by Hilton Ozona for the quality service they provide to the community and the region.
For more information you may call 325/392-1449, e-mail: amit.patel4@hilton.com, or visit www.facebook.com/hamptoninnozona.