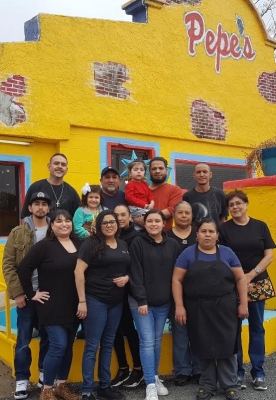 Left to right

Top row: Daniel Martinez, Kierslyn Tobar, Alfredo Tobar,
Alfredo Tobar III, Afredo Tobar Jr., Manual Reyes
Middle row: Eric Talamantez, Teresa Elizondo,
Amada Rodriguez, Delia Castillo
Front row: Millie Grannis, Alex Tobar,
Blayk Mitchell, Anna Galvan
Employees Not Pictured: Judy Rodriguez, Lisa Broughten,
Chelsea Gomez, Jaron Villarreal, Marty Moran,
Marianna Garza, Ricky Lynn Swearingen
Business of the Month
Ozona Chamber of Commerce
recognizes
Pepe's Café
as our Business of the Month
The Chamber of Commerce recognizes Pepe's Café as our Business of the Month.

With a long history in Ozona, Pepe's Café, now located in the old M & M Building, was originally located near the town square before closing in 1986. Six years later, in 1992, Alfredo reopened the restaurant in its current location on Sheffield Highway.

Alfredo grew up in the restaurant business in Ozona. His late parents, Joe and Manuelita Tobar, raised their family in a home above their eating establishment called Cactus, located on Monterrey Street. "I remember as a kid there was no cooking at home. We just ate at the restaurant whenever we were hungry," said Alfredo.
"I have been in the business all of my life. I put everything I had into reopening the restaurant, but I had forgotten about change for the register, so my mom had to give me $125. My Dad always told me whatever you buy; buy the best, because whatever you don't sell, you have to eat!
Ozona has been good to us and we would like to thank our customers, especially our regulars who have become like family. God has blessed us. We enjoy serving Ozona and the travelers off the Interstate. One of the most memorable events was back in 2005. A group of individuals formed a team of volunteers who came together, calling themselves "Katrina's Krew", headed to Houston at their own expense to deliver supplies. We wanted to help and served the crew a meal, on the house, to help with their volunteer efforts," said Alfredo.
"Pepe's has always been a family business, and home has always been Pepe's, and we plan to carry on the tradition. While you can still find my dad at the restaurant, he is trying to pass the business on to his kids," said Alex Tobar. "One year ago I took over as manager," said Alex Tobar. "It is hard work but we have made a lot of improvements and modernized the restaurant to make it more efficient. Everything has now been computerized which gives us more time with our customers. It is a family business, and we try to have fun with it and our customers. I don't think my dad will ever really retire, but he is allowing the kids to slowly take the reins."
"And one day they will, because I did it all for my kids," said Alfredo.
"It is very hard to find good workers, but we are especially grateful to our employees who have been with us as little as two years and as long as nineteen years. Right now we are so busy, but having great employees allows us to keep giving our customers great service," said Alex. Pepe's Café employs Manager Alex Tobar, Manuel Reyes, Teresa Elizondo, Delia Castillo, Judy Rodriguez, Daniel Martinez, Alfredo Tobar III, Alfredo Tobar Jr., Lisa Broughten, Amada Rodriguez, Mille Grannis, Blayk Mitchell, Anna Galvan, Jaron Villarreal, Marty Moran, Marianna Garza, Ricky Lynn Swearingen.
Pepe's Café serves Mexican and American Food. Breakfast favorites include huevos rancheros, omelets, migas, pancakes, steak, fresh squeezed orange juice all served from 7 am to 11am. On the lunch and dinner menu you will find a variety of choices from shrimp enchiladas, grilled pork chops, and chicken alfredo to hamburger steak. Most popular meals include steak tacos, burgers, chicken fried steak ranchero, Hawaiian chicken, crazy nachos, carnita and quesadillas. The chicken con queso and carnitas are the most popular items.

Dining at Pepe's Café is like having an experience. A framed sketch of the old restaurant has a prominent place in Pepe's Café today. Art work by Alfredo and memorabilia decorate the walls and restaurant. "Our customers really enjoy looking at the art while they are waiting for their meal or afterwards," said Alfredo.
The Ozona Chamber of Commerce would like to recognize Pepe's Café for their commitment to provide the best possible service to local residents and visitors to our community.

Pepe's Café is located at 1003 Sheffield Road. Their hours of operation are Monday 7am-1:45pm, Tuesday-Closed, Wednesday through Saturday, 7am-9:45pm, Sunday 7am to 8:45pm. You may also visit www.Facebook/PepesCaféOzona. For more information call 325/392-2923.