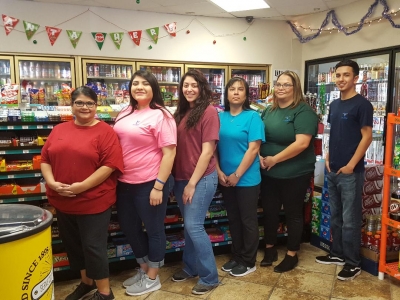 Business of the Month
Ozona Chamber of Commerce
recognizes
I-10 & 163 The Corner Store/Valero
as our Business of the Month
The Little Store was operated by the Maness Family, local Ozona residents, for many years before the Richardson family bought the store in 2011. The store was remodeled in 2012 and opened later that year.

"Because we opened the latter part of 2012 we were not candidates for the Valero commitment to excellence. However, we did receive the silver level for 2013 and 2014 and we received the gold level award in 2015, 2016, and 2017. This is based on scores by a mystery shopper authorized by Valero to take pictures of our location in addition to answering multiple questions about our facility. The mystery shopper checks the cleanliness of the store, inside and out, evaluates our customer service, and makes sure shelves are stocked," said Amanda Quiroz, Store Manager.

"There are six of us that work very hard focusing on customer service for both the residents of Ozona and the many travelers we greet each day. We pride ourselves on having a clean facility, including the restrooms," said Amanda. Employees include Amanda Quiroz-Manager, Amy Quiroz-Assistant Manager, Mary Held, Kendra Martinez, Monic Castro and Justice Adkins.

"We carry a variety of beer, imported beer and wines. In addition we have a large selection of candy, chips, snacks, energy drinks, sodas, and sports drinks. We also carry phone accessories like chargers, cords and ear buds. Locals love our coffee so much they call us the local Starbucks. Of course the store also offers regular, unleaded and diesel at our filling station".
The I-10 & 163 The Corner Store/Valero is looking forward to many more decades of serving the community of Ozona and we thank the residents for their continued support.
The Ozona Chamber of Commerce would like to recognize the I-10 & 163 The Corner Store/Valero for their commitment to provide the best possible service to our local residents and visitors to our community.

The I-10 & 163 The Corner Store/Valero is located at 504 14th Street, and at the intersection of I-10 and Hwy. 163 N. The filling station is open 24/7. Store hours are 6:00 am – 10:00 pm Sunday through Thursday, and open 6:00 am - 12:00 am Friday and Saturday. For more information you can contact Amanda Quiroz at 325/392-2830.