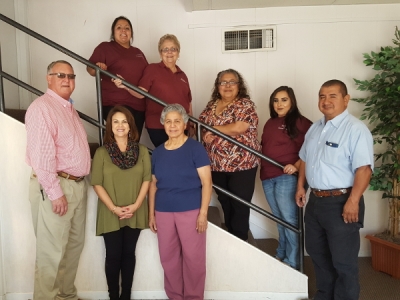 Back row (Left to Right): Adrian Dehoyos,
Alda Dehoyos, Sylvia Longoria, Amber
Dehoyos, Raymond P. "Bear" Borrego
Front Row (Left to Right): Bruce Kerbow,
Evelyn Kerbow and Jovita Perez
Business of the Month
The Chamber of Commerce recognizes Kerbow Funeral Home as our Business of the Month.

Kerbow Funeral Home is owned and operated by Bruce and Evelyn Kerbow. Bruce has been a licensed Funeral Director and Embalmer for over 30 years. Kerbow Funeral Home has several employees including Raymond P. "Bear" Borrego, Alda, Adrienne and Amber Dehoyos, Sylvia Longoria, and Jovita Perez.

The funeral home is located in the Old Ozona Hotel at 502 E. 9th Street. Built in 1893, this hotel was established to board teachers, visiting athletic teams and business visitors to the town. The building is in the registry of Historical Sites through the Texas Historical Commission.

Kerbow Funeral Home offers at need burials and cremations and also can help with pre-planning and pre-paying funerals and cremations. Monuments are also available along with monument cleaning.

"Kerbow Funeral Home is proud to be a member of the Ozona Chamber of Commerce and is also proud to support the local events, public schools, Lions and Lady Lions and to purchase the flags for the deceased veterans buried in Lima and Cedar Hill cemeteries. We feel it is important to be apart of the community. Evelyn and I, and our staff, are humbled by this recognition," said owner Bruce Kerbow.

The Ozona Chamber of Commerce would like to recognize and thank Kerbow Funeral Home for the service they provide to the community.

For more information, available 24/7, you may call 325/206-0597 or E-Mail: KerbowFH1@verizon.net. You may also visit their web site at www.kerbowfuneralhome.com.