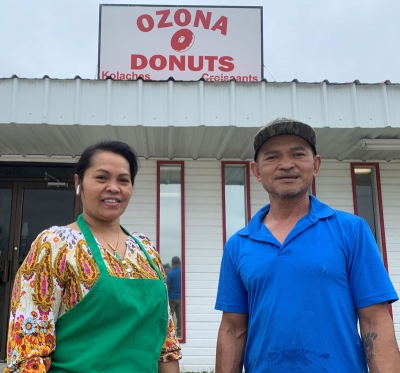 Ozona Donuts owners: Christine and Tim Pol
are proud to be Ozona Chamber of Commerce
Business of the Month recipients.
Business of the Month
The Chamber of Commerce
would like to recognize
Ozona Donuts
as our
Business of the Month
Ozona Donuts is a family business, owned and operated by Tim and Christine Pol, and their daughter Jessica Thim.
Ozona Donuts serves old fashioned cake, sprinkled and filled donuts, as well as a selection of cinnamon rolls, cinnamon twists, eclairs and apple fritters. Also included in the menu are croissants and biscuits, made with your choice of bacon, egg, sausage, ham and cheese.
Sausage and jalapeno Kolaches are a customer favorite! Customers can also enjoy a wide array of beverages such as milk, apple juice, sweet tea or coffee, and bottled water.
"Everything on our menu is made fresh daily" said Tim.
Located at 1606 Del Rio Street (across from Ozona Elementary School), Ozona Donuts is open for business seven days a week from 5am to 1pm year round.
"We are very grateful for our customers. Without them we wouldn't have a business. Running a business in a small town is so much nicer than in the big city. Here we are on a first name basis with our customers and we miss our regulars if they haven't stopped in for a while.
"Our customers are great!" said Tim.
"Ozona has made us feel so welcome," Tim went on to say. "Where we come from, we truly know the meaning of gratitude. Support from the community and our customers have made Ozona really feel like home."
Ozona Donuts can take large orders, with at least one day's notice, for meetings, showers or other events. Stop by the shop to pick up a brochure and menu.
The Ozona Chamber of Commerce would like to recognize Ozona Donuts for their efforts to provide quality service in addition to being an added asset to the local business community. For more information call (562) 332-5654.