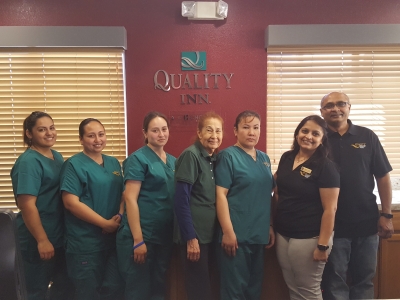 Pictured Left to right: Sandra Rios, Rosa Fraga, Sandra Fraga,
Lupe Gomez, Maria Hernandez, Mohini Patel, Manish Patel,
Not pictured: Tina Castillo
Business of the Month
Ozona Chamber of Commerce
recognizes
Quality Inn Ozona
as our Business of the Month
Quality Inn Ozona is the former Best Western Ozona Inn located at Exit 365 off I-10, 1307 Avenue A. "We are within walking distance from the Convention Center and Crockett County Museum," said Manish.
Quality Inn Ozona is a family owned and operated business. Every member of Quality Inn takes great pride in providing the best service to our guests. Manish and Mohini Patel have been in lodging business in Ozona since late 2013. "We are originally from Sacramento, CA, and moved to Ozona in 2013 with our family," said Manish.
The Quality Inn members are Manish and Mohini Patel as Managers, Tina Castillo as Front Desk Representative, Maria Ventura, Sandra Fraga and Rosa Fraga as Guest Services, and Lupe Gomez as Breakfast Attendant. "Some of our employees have been with us 10+ years. We appreciate all of our staff members for their efforts and hard work, they are the ones who makes us successful as a business owner," said Mohini.

The Quality Inn Ozona offers 69 non-smoking single king, double queen or 3 queen bed rooms. They offer amenities such as free wired or Wi-Fi access, business center in the lobby, fitness room, hot breakfast, 42" flat panel TV, Dish HD channels, microwave, fridge, coffee maker, ironing area, and work desk. Pets are allowed with a fee.
"We would like to thank the Ozona Chamber of Commerce for honoring Quality Inn as Business of the Month. We would also like to thank our local guests and their family members for allowing us to serve them," said Manish.
The Ozona Chamber of Commerce would like to recognize the Quality Inn for their commitment to provide the best possible service to local residents and visitors to our community. For more information about the Quality Inn call 325/392-3791, E-Mail: manish.patel1025@gmail.com, fax at 325/392-5277 or visit www.choicehotels.com.