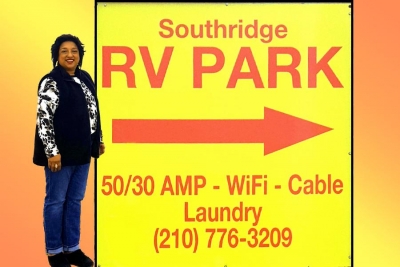 Business of the Month
Ozona Chamber of Commerce
recognizes
Southridge RV Park
as our Business of the Month
The Chamber of Commerce recognizes Southridge RV Park as our Business of the Month.
Southridge RV Park opened in September of 2012, and is owned by Scott Duncan, Rufus Duncan, Jr., and Ben Glisan. Mary Moore of Lufkin oversees the operation of the park while Jerri Fierro is the local Park Manager.
"The park has 60 sites or spaces that can accommodate up to a 45' rig, and each space has room for a personal vehicle," said Jerri Fierro, Park Manager.
"Each RV site includes full hook-ups, with water, sewer, electricity, free Internet and cable TV, and WiFi. We have both 50/30 amp spaces and an on-site laundry mat. The property is also landscaped.
Right now our park is full and we have a waiting list due to all of the pipeline workers in Ozona. We do our best to accommodate as many people as we can and try to assist these workers in finding a place to park."
The Ozona Chamber of Commerce would like to recognize Southridge RV Park for their commitment to provide the best possible service to local residents and visitors to our community.
Southride RV park is located at 108 Chandler Drive right off of Hwy. 163 South of Ozona. For more information you may contact Jerri Fierro at 210/776-3209 or e-mail her at OzonaRV@gmail.com.