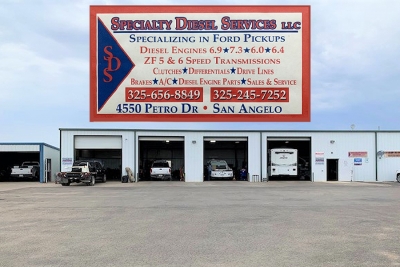 Business of the Month
The Chamber of Commerce
would like to recognize
Specialty Diesel Services LLC
as our
Business of the Month
Specialty Diesel Services LLC was established in 2005 by James and Marcia Michulka, as a family owned business that now staffs 4 people.
"Our company specializes in Ford Pickup Trucks with 37 plus years of experience. We work on various sized diesel engines, transmissions, clutches, differentials, drive lines, brakes, A/C and provide diesel engine parts, sales and service. Our customers travel from Ozona, Mertzon, Sonora, and all the surrounding counties and from around our state of Texas. We also service our traveling customers from around the United States," said owner James Michulka.
"As a family owned business, we understand that while traveling breakdowns happen, and are inconvenient, we are here to help you get back on the road in a timely manner," said owner Marcia Michulka.
"Specialty Diesel Services LLC believes all our customers deserve the best with the "Right Repair for The Right Price! We want to take care of all your Ford Truck needs from small to large."
The Ozona Chamber of Commerce would like to recognize and thank Specialty Diesel Services, LLC for the professional service provided to the residents of Ozona.
Specialty Diesel Services, LLC is located at 4550 Petro Drive, San Angelo, TX 76903. You can reach them by calling 325/ 656-8849 of 325/245-7252. You can also visit their web site at www.specialtydiesel.net.