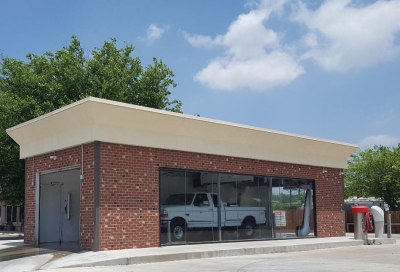 Business of the Month
Ozona Chamber of Commerce
recognizes
HW Car Wash
as our Business of the Month
HW Car Wash is a 24 hour drive-thru car wash for everything from dually pickups to compact cars. Partners David & Jana Wilson and Rick & Shannon Hunnicutt came up with the idea to put in a car wash over dinner one evening. The friends were on their way to the JL Bar Ranch for supper in a dirty vehicle. Talk turned to how great it would be to have a nice, convenient place to clean your car. By the time they got back to Ozona, they were putting in a new car wash.
The wash building was delivered on November 17, 2016. It came in two parts, the wash bay and the equipment room. Rick & Shannon followed the first truck into town, while David & Jana were on site with the crane & other equipment to set the building. The Grand Opening was held on March 3, 2017. County officials, Chamber Board of Directors, staff & Ambassadors, along with a number of local residents gathered for a Ribbon Cutting ceremony, followed by a luncheon, compliments of the Wilsons and Hunnicutts.

Since then, business has been steady. "Being open 24/7, we get calls day & night. Whether someone needs help using the pay station for the first time, or they forgot about a garden hose in the back of a pickup and now its tangled in the wash bay, we are grateful for every call." said Rick. To provide the best service, maintenance is key. This can be difficult and expensive in a rural area, but it's necessary to providing a quality wash. While down time is unavoidable, whether due to weather, WiFi or maintenance, Shannon says customers have been patient & understanding.

It takes approximately 10 minutes per car wash, depending on the level chosen. The number of cars that come through each day varies greatly. David says sunny days are the busiest, but the most cars ever washed in a single day was the day of Ozona's recent high school prom.

David, Jana, Rick & Shannon each convey their appreciation for the support of the Ozona Chamber of Commerce and the entire community, and look forward to many more years of providing a quality car wash here in Ozona.

The Ozona Chamber of Commerce would like to recognize HW Car Wash for their commitment to providing the best possible service to the community.
For more information you may call 325/226-0145 or e-mail: shannonhunnicutt@outlook.com.