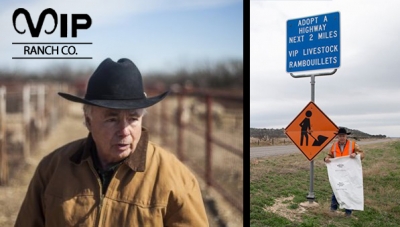 Business of the Month
Ozona Chamber of Commerce
recognizes
VIP Ranch Co.
as our Business of the Month
"Like many others in Crockett County, VIP RANCH CO. is typical of local ranching operations. It was initially named PJR Livestock Co. for myself, brother and sister (Pierce, Jay and Robilen) in 1981 and later changed to VIP Livestock Co. after brother Jay's and grandfather V I Pierce's deaths in 1984," said Pierce Miller.
"My present family are all 4th generation Texas ranchers, starting with J.S. Pierce & Jones Miller, Victor & Ada Pierce, Rob & Zilla Miller and Eugene & Vicky Pierce Miller. My wife, Betty Baggett Miller, and her family: Jack & Billie Gene Baggett, E.H. & Vivian Linthicum and E.B. & Alice Baggett. Betty and I had two children, Rhett (killed in an auto accident in 1991) and Camille Miller Yale, married to Ed Yale with 3 grandchildren, Marshall, Rob and Vivian."
The ranching operation is located 20 miles south of Ozona. Livestock includes Rambouillet sheep, Boer goats, Brangus and Longhorn cattle. While the livestock income is critical, the impact on Ozona's economy is the area that is most affected by the 100+ deer hunters the ranches welcome annually. "Our biggest problems are predators (coyotes, feral hogs, bobcats, etc.) plus internal parasites. We are strong believers in associations that assist us on a local, State and Federal level, i.e. Ozona Chamber of Commerce, the Ozona NRCS, Farm Service Agency, Texas Sheep & Goat Raisers Association, Texas Wildlife Association, Texas Sheep & Goat Research Center, Texas & National Cattlemen Association and the American Sheep Industry.
"Our staff includes Janis Baucom, San Angelo office manager, Ronnie Davis and Tony Sanchez as our foremen and 4 ranch hands all in Ozona. The Ozona employees and I not only do ranch work, but have been participants in the Texas Department of Transportations "Adopt A Highway" program for 26 years, caring for two miles of Highway 163 south of Ozona.
"Crockett County has many areas of economic impact but ranching, oil & gas, wind turbines & solar energy as well as Interstate 10 will continue to be the business drivers."
The Ozona Chamber of Commerce would like to recognize VIP Ranch Co. for their contributions to the ranching and agriculture community, as well as the economic impact their hunters make on the community of Ozona.
VIP Ranch Co. is located at 311 W. Concho Avenue, San Angelo, TX 76903. For more information you may contact them at 325/655-5747, or via mail at P.O. Box 3832, San Angelo, TX 76904.