Ozona Chamber of Commerce:
The Ozona Chamber of Commerce & Visitor Center lobby and 24-hour restrooms, as with all local small businesses, is open to the public at a 50% capacity as per the Texas Governor's re-opening plan. The Chamber of Commerce offices are open for business Monday-Friday, 9:00am-5:00pm.
Crockett County Facilities:
The Crockett County Commissioners' Court has closed the following to the public until June 1st:
Crockett County Civic Center
Crockett County Senior Center
Crockett County Public Library - The library is asking all patrons to use the Library Book Drop, the Big Blue Box located to the North of our Building to return your books.
J. Cleo Thompson Wellness Center
Crockett County Convention Center
Crockett County Museum
Crockett County EMS - No riders will be allowed in the ambulance to accompany family members to the hospital. Small children and babies are exempt.
Crockett County Sports Facilities and Practice Fields - The use of Crockett County sports facilities and practice fields has been suspended. This includes all youth baseball and youth softball practices and games.
Crockett County Annex Offices - All courthouse annex offices are closed to the public. Offices will continue to be staffed to answer phones and email. General county information can be found at www.co.crockett.tx.us
Crockett County Court - Judge Deaton has cancelled County Court for April and May. THIS IS COUNTY COURT ONLY!
Crockett County Jail - The Texas Commission on Jail Standards (TDJS) issued an official Suspension of Visitation Plan Friday afternoon, March 13, 2020. The mandate states that visitation of individuals who are incarcerated will no longer be allowed. However, it recommends allowing attorneys visitation so as not to interfere with the court system. They should be screened before entering detention facilities, according to the notice. The TCJS directive came after a National Declaration of Emergency amid increasing concerns over COVID-19 (Coronavirus). Crockett County Jail is complying with this order.
Crockett County Care Center - By recommendation of our local doctor Crockett County Care Center will be closed to anyone who is not a care center employee or resident. This is expected to last 1-2 weeks, possibly longer. This is only to err on the side of caution with the rise and spread of COVID-19. Nurses and staff will also have their temperatures checked and a health screening prior to entering the facility each shift. We know this recent and temporary change effects many people and their loved ones, but the protection and well-being of our nursing home residents must always come first and foremost. For more information, call the Nurses' Station at (325) 392-2671 ext. 30.
112th District Court:
112th District Court is calling off anything that is unnecessary.
Crockett County Schools: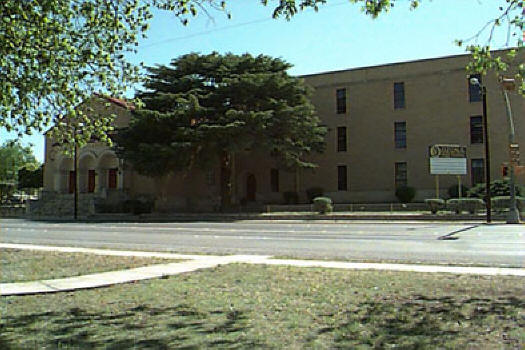 CCCCSD through the end of the semester. They will continue to serve students through Home-Based Learning.
Each campus has set up mandatory work assignments for students, if you have trouble accessing assignments, you may contact your teacher through email or Google Messaging.
OHS and OMS Assignments can be found in students Google Classroom.
OES assignments are pushed through Class Dojo.
Visit ozonaschools.net for email access and assignment information.
The CCCCSD Administration Office will be open for telephone calls only from 10 a.m.-2 p.m. Monday-Friday at (325) 392-5501 ext. 0.
CCCCSD is serving drive-thru and pick up meals for all children ages 1-18 from 11:30 a.m.-12:30 p.m. Monday-Friday at the OES Campus.
Community Organizations, Attractions and Businesses:
4-H and Texas AgriLife Extension Office have cancelled all face-to-face meetings through May 4th. This includes all adult and youth programs. They are working to provide online versions of programs where possible and will update with those opportunities as available. The annual Texas 4-H Roundup scheduled for the summer and all 4-H campus programs through the summer have been cancelled. Visit the Crockett County - Texas A&M AgriLife Facebook Page for online activities. For more information, contact Kailey Scott, Crockett County Extension Agent at 325-392-2721.
Helping Hands is still delivering meals to those residents of Crockett County that are homebound. Those citizens who were formerly coming to the center for lunch are still able to drive up at the back doors of the building and we will bring meals to you, in your car. If you are interested in this program or would like more information, please call (325) 392-5026.
Ozona Head Start - Ozona Head Start will remain closed until May 18th.
Ozona Community Center - The Ozona Community Center is closed through May 18th. During this time, The Ozona Community Center is asking the public to help support our facility in sponsoring a child. This will help maintain our full-time staff, who are devoted to caring for your children. We are asking for $135 per week to sponsor a full-time infant/child or $40 a week for an after-school child. Donations can be mailed to The Ozona Community Center, PO Box 41, Ozona, Texas 76943.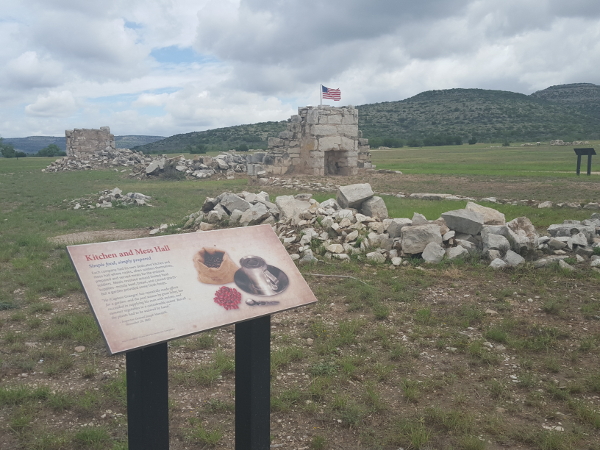 Fort Lancaster State Historical Site – The Texas Historical Commission is preparing to reopen most of state historic sites for day-use only, beginning Friday, May 1st. Visitors are to maintain a 6-foot distance from others. Masks and face coverings are strongly encouraged. No groups larger than five outside of the same household or group gatherings allowed. The grounds are accessible for walking, self-guided tours only. The Visitor Center remains closed. Public restrooms are also closed. Visitors should contact the Fort by phone (432-836-4391) before they visit to get up to date information.

Local banks - Ozona Bank and Crockett National Bank have closed their lobbies to the public. Motor banks are still open.
Ozona Country Club is serving drinks and snacks through the window on the patio only. The clubhouse, including the bar, is closed until further notice. The men's restroom can still be accessed through the outside door and the women's restroom can be accessed through the outside door in the game room. The golf course remains open, but club officials are encouraging players to be in groups less than 10 and keep safe distances from each other.
RESTAURANTS: Please visit our www.Ozona.com/ozona-restaurants-open-amid-covid-19 page.
SHOPPING: Please visit our www.Ozona.com/ozona-shopping-hours-amid-covid-19 page
All local hair salons and nail salons have closed in compliance with the governor's executive order until review on May 18th.

CHURCHES
First Baptist Church has canceled their Wednesday night K.I.D.S. program and canceled Sunday services. They will broadcast services on their Facebook page and email and at www.ozonafbc.com. The First Baptist Church plans on having a drive-up Sunday service starting at 10:55 a.m. They are asking for cars to arrive at 10:45 a.m. so that everyone can get parked in appropriate places. Visit www.ozonafbc.com for more information.
Ozona United Methodist Church has canceled Sunday services. Services will be on their Facebook page and email. Visit www.ozonaumc.com for more information
New Beginnings Ozona has canceled Wednesday and Sunday services and moved services online at newbeginningsozona.com or their Facebook page.
OLPH Catholic Church is streaming mass online and on Facebook and through 94.3 FM radio.
UTILITIES
AEP - AEP is temporarily suspending all disconnections for non-payment as the coronavirus (COVID-19) continues to spread in our communities. We know our customers are concerned about their families and ensuring they have reliable electric service allows them to focus on staying healthy and well. AEP is committed to doing what we can to help our customers, our employees, and the communities we serve navigate this uncertain time.
NATGAS - NatGas office is closed to the public. For questions, call 325.392.2201, 325.226.2031 or 325.226.5060 or email natgas.inc@yahoo.com. Payments can be mailed or left at the office drop box. Disconnects on past due accounts are being temporarily suspended.
OZONA CABLE & BROADBAND - LOBBY CLOSED - Payments can be made through drop box or on the phone with a credit card. 325.480.2300 (Must dial area code.)
CROCKETT COUNTY WATER CONTROL & IMPROVEMENT DISTRICT #1 - The Crockett County Water District is closed to the public. Please mail payments or leave in the night drop. For any other business, please contact us at 325.392.2730 or 325.392.3260 during business hours. We apologize for the inconvenience and thank you for your cooperation.
Nuestra oficina está cerrada al público. Envíe los pagos por correo o déjalo en el deposito de noche. Para cualquier otro negocio, contáctenos al 325.392.2730 o 325.392.3260.
Disculpe las molestias y gracias por su cooperación.
Updated Friday, May 8, 2020 at 3:27 p.m.