Ozona Chamber of Commerce:
The Ozona Chamber of Commerce & Visitor Center lobby and 24-hour restrooms, as with all local small businesses, is open to the public at a 50% capacity as per the Texas Governor's re-opening plan. The Chamber of Commerce offices are open for business Monday-Friday, 9:00am-5:00pm. The Visitor Center is also open Saturdays, 10:00am-3:00pm.
Crockett County Facilities:
The Crockett County Commissioners' Court has opened/closed the following to the public:
Crockett County Civic Center will be closed until further notice.
Crockett County Senior Center will be closed to the public for the next two weeks. This closure will not affect meals delivered to homebound residents and meals may also be picked up at the back door of the center through Helping Hands. For more information, call the Crockett County Senior Center at (325) 392-9094 or Helping Hands at (325) 392-5026.
Crockett County Public Library - The Library will be CLOSED until further notice. You are welcome to use their Libby App to read digital books. Contact them for a library code number at 325-392-3565, or visit crockett.ploud.net.
J. Cleo Thompson Wellness Center is closed until further notice. Visit www.ozonawellness.com for more information.
Crockett County Convention Center is closed until further notice.
Crockett County Museum is now open with the following guidelines:

Tourist are required to wear a face mask and sanitize their hands upon entrance before touring the facility.
Please wait for assistance & Sign in our guest book.
Cash and Card Only. No out of town checks.
Practice Social Distancing.
Do NOT handle merchandise in the gift shop.
Do NOT handle displays.
Tourist, if you do not feel well, please do not enter the Facility.

Crockett County EMS - No riders will be allowed in the ambulance to accompany family members to the hospital. Small children and babies are exempt.
Crockett County Sports Facilities and Practice Fields - The use of Crockett County sports facilities and practice fields has been suspended. This includes all youth baseball and youth softball practices and games.
Crockett County Annex Offices - All courthouse annex offices are closed to the public. Recommended you call ahead to set up appointments. General county information can be found at www.co.crockett.tx.us
Crockett County Court - Temporarily suspended.
Crockett County Commissioners Court - Check back for details on August's meetings.
Crockett County Jail - The Texas Commission on Jail Standards (TDJS) issued an official Suspension of Visitation Plan Friday afternoon, March 13, 2020. The mandate states that visitation of individuals who are incarcerated will no longer be allowed. However, it recommends allowing attorneys visitation so as not to interfere with the court system. They should be screened before entering detention facilities, according to the notice. The TCJS directive came after a National Declaration of Emergency amid increasing concerns over COVID-19 (Coronavirus). Crockett County Jail is complying with this order.
Crockett County Care Center - By recommendation of our local doctor, Crockett County Care Center will be closed to anyone who is not a care center employee or resident. This is only to err on the side of caution with the rise and spread of COVID-19. Nurses and staff will also have their temperatures checked and a health screening prior to entering the facility each shift. We know this recent and temporary change affects many people and their loved ones, but the protection and well-being of our nursing home residents must always come first and foremost. For more information call the nurse's station at 325-392-2671, ext. 30.
Crockett County Swimming Pool is closed until further notice.
112th District Court:
112th District Court is calling off anything that is unnecessary until further notice.
Crockett County Schools: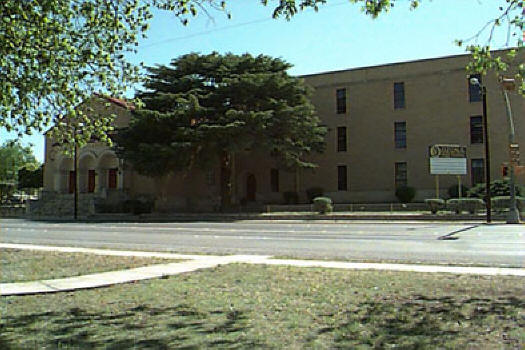 CCCCSD will be closed through the summer.
Classes will resume on August 17th. Stay tuned for details.
Visit ozonaschools.net for more information.
The CCCCSD Administration Office will be open for telephone calls only from 10 a.m.-2 p.m. Monday-Friday at (325) 392-5501 ext. 0.
CCCCSD is serving drive-thru meals during the month of June. Pick up meals for all children ages 1-18 from 11:30 a.m.-12:30 p.m. Monday-Thursday at the OES Campus.
Community Organizations, Attractions and Businesses:
4-H and Texas AgriLife Extension Office is open with social distancing guidelines being followed. The annual Texas 4-H Roundup scheduled for the summer and all 4-H campus programs through the summer have been cancelled. Visit the Crockett County - Texas A&M AgriLife Facebook Page for more information, or contact Kailey Scott, Crockett County Extension Agent at 325-392-2721.
Helping Hands is still delivering meals to those residents of Crockett County that are homebound. Those citizens who were formerly coming to the center for lunch are still able to drive up at the back doors of the building and we will bring meals to you, in your car. If you are interested in this program or would like more information, please call (325) 392-5026.
Ozona Head Start - Ozona Head Start will remain closed for the summer.
Ozona Community Center - The Ozona Community Center staff and board of directors plan to reopen the child care facility on August 3rd. Strict health protocols will be followed. During this time, the Ozona Community Center is asking the public to help support our facility in sponsoring a child. This will help maintain our full-time staff, who are devoted to caring for your children. We are asking for $135 per week to sponsor a full-time infant/child or $40 a week for an after-school child. Donations can be mailed to the Ozona Community Center, PO Box 41, Ozona, Texas 76943.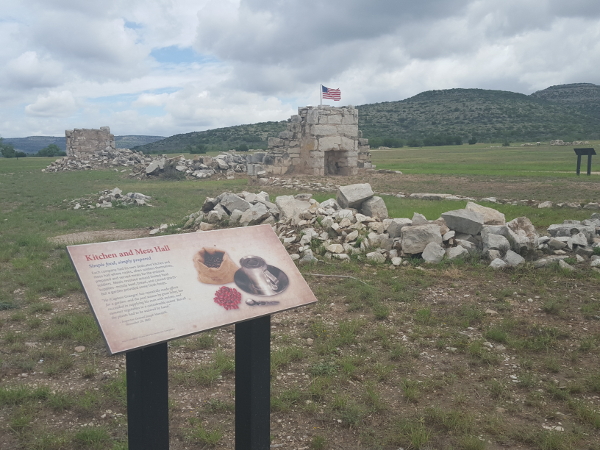 Fort Lancaster State Historical Site – The Texas Historical Commission has reopened most of state historic sites for day-use only. Visitors are to maintain a 6-foot distance from others. Masks and face coverings are strongly encouraged. No groups larger than five outside of the same household or group gatherings allowed. The grounds are accessible for walking, self-guided tours only. The Visitor Center remains closed. Public restrooms are also closed. Visitors should contact the Fort by phone (432-836-4391) before they visit to get up to date information.

Local banks -
Ozona Bank's lobby is closed, except for appointments only. Motor banks are open.
Crockett National Bank lobby is closed, except for appointments only. Motor banks are open.
Ozona Country Club bar is open and following social distancing guidelines. The ballroom remains closed. The golf course remains open, but club officials are encouraging players to be in groups less than 10 and keep safe distances from each other.
RESTAURANTS: Please visit our www.Ozona.com/ozona-restaurants-open-amid-covid-19 page.
SHOPPING: Please visit our www.Ozona.com/ozona-shopping-hours-amid-covid-19 page
All local hair salons and nail salons are open in compliance with the governor's guidelines.
The Ozona Stockman will be closed on Fridays during July.

CHURCHES
First Baptist Church has canceled their Wednesday night K.I.D.S. program and canceled Sunday evening services. The First Baptist Church is having gazebo Sunday services starting at 9:55 a.m through July. They will broadcast services on their Facebook page and email and at www.ozonafbc.com. Stay tuned for future details. They are asking for cars to arrive at 9:45 a.m. so that everyone can get settled in appropriate places. Visit www.ozonafbc.com for more information.
Ozona United Methodist Church will resume outdoor Sunday services at 10:00 a.m. in front of the Parsonage behind the main church buildings. Services will be on their Facebook page and email. Visit www.ozonaumc.com for more information. Social distancing guidelines will be followed.
New Beginnings Ozona suspend all physical church meetings until further notice. Services will be available online at newbeginningsozona.com or their Facebook page.
OLPH Catholic Church has suspended regular services. They are streaming mass online and on Facebook and through 94.3 FM radio.
UTILITIES
AEP - AEP is temporarily suspending all disconnections for non-payment as the coronavirus (COVID-19) continues to spread in our communities. We know our customers are concerned about their families and ensuring they have reliable electric service allows them to focus on staying healthy and well. AEP is committed to doing what we can to help our customers, our employees, and the communities we serve navigate this uncertain time.
NATGAS - NatGas office is closed. Night drop is available for bill payments. For questions, call 325.392.2201, 325.226.2031 or 325.226.5060 or email natgas.inc@yahoo.com. Disconnects on past due accounts are being temporarily suspended.
OZONA CABLE & BROADBAND office is closed. Night drop is available for bill payments.
CROCKETT COUNTY WATER CONTROL & IMPROVEMENT DISTRICT #1 is closed to the public. Payment Options are: Mail, Night Drop or Bank Draft. Staff is available to assist Monday-Friday, 8am-12pm and 1pm-5pm by calling 325.392.2730 or 325.392.3260. Any questions or concerns, please call.
Nuestra oficina está cerrada al público. Envíe los pagos por correo o déjalo en el deposito de noche. Para cualquier otro negocio, contáctenos al 325.392.2730 o 325.392.3260.
Disculpe las molestias y gracias por su cooperación.
Updated Wednesday, July 21, 2020 at 4:45 p.m.