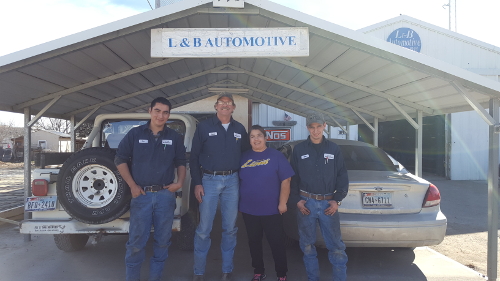 From left to right: Part Owner and Head Mechanic
Juan Chavez, Owner-David Lott, Office Manager-
Ellie Tijerina and Second Mechanic-Ryan Miller.
Business of the Month:
L & B Automotive
The Chamber of Commerce recognizes L & B Automotive as our Business of the Month.

L & B Automotive opened its doors on May 18, 2015. Owner David Lott started his career in 1977 working as an auto mechanic for the late Charles Preddy at B & C Automotive. His employment lasted until 1983 when he moved to Waco, TX to attend Texas State Technical Institute. He received his diploma with certifications in heavy truck mechanics and spent 17 years working for Freightliner and International dealerships in the Fort Worth, TX area. David moved back to Ozona in 2001 and worked for Express Air Drilling for 4 years and at O.T.T.E.R. for 7 years. Seeing the need for a hometown auto repair business, he opened L & B Automotive.

L & B Automotive currently employs Head Mechanic and part owner Juan Chavez and Second Mechanic Ryan Miller. "They offer up-to-date computer diagnostics, general auto/truck repair such as brakes, clutches, engine repair and A/C repair. They continuously update their tools and equipment to better service their customers. Most customers are locally based, but they average 2-3 travelers per week, more during the summer," said David Lott. Also employed part-time is Office Manager Ellie Tijerina.

L & B Automotive handles general auto repair, brakes, shocks, computer diagnostics, water pumps and more. They work with American and Japanese vehicles and they carry insurance.

The Ozona Chamber of Commerce would like to recognize L & B Automotive as an asset to our business community and for the quality service provided to their customers. "L & B Automotive would like to thank Ozona for all their support. We value your business and look forward to many more years of service," said David.

L & B Automotive is located at 915 Sheffield Road. Hours of operation are 8:00 a.m. to 5:30 p.m., Monday through Friday, and 8 a.m. to 12 p.m. on Saturdays. L & B Automotive can be reached at 325/392-3311.