The Ozona Chamber of Commerce would like to wish the following members a Happy Anniversary and thank them for their support of their community, our organization and it's programs and services.
Our sincere appreciation goes to:

AUGUST
Carter Health Care-2010
Ozona Environmental, LLC-1998
Esperanza Ranch-2005
Devon Energy Corporation-2008
Ad Art Signs-2009
Twistflower Ranch-2009
Lowe's Market-2010
Oglesby Ranch-2010
Noelle Land & Mineral-2011
Kenny Blanek's Village Cafe & Catering-2012

---
Chamber of Commerce
recognizes
T & C Wholesale
as our
Business of the Month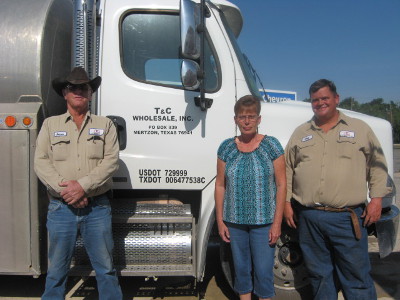 Ozona Employees Left to Right: James Montgomery, Beth
Gravell, Sidney Gunnels and not shown, Jimmy Gillit
The Chamber of Commerce recognizes T&C Wholesale, LLC., a long standing member of the Chamber and supporter of Ozona for many years, as the Business of the Month.
For over 25 years, T&C Wholesale, formerly known as Shelton Oil & Gas, has been serving customers all over West Texas and beyond. T&C Wholesale is owned by Susser Holdings, the same company that operates the Stripes Convenience Stores.

T&C Wholesale has offices in Ozona and Mertzon with over 20 employees working out of the two locations. Retail fuel sales, wholesale fuel sales, propane, and lubricants are delivered to customers all over West Texas utilizing a fleet of pickups, bobtail trucks, and transports.
T&C Wholesale, in Ozona, presently has 4 employees. Beth Gravell, an employee of over 9 years, runs the office located at 1003 12th Street. James Montgomery, Sidney Gunnels, and Jimmy Gillet operate bobtail trucks delivering different products from the Ozona Yard.
T&C Wholesale has a great staff and all are willing to go ABOVE AND BEYOND to take care of any and all the needs of the customers in their area. Call 325-392-5426 for all your fuel, propane, and lubricant (oil) needs.
The Chamber of Commerce would like to recognize T & C Wholesale for their efforts to provide quality service in addition to being an asset to the local business community.
---

Print Friendly