The Ozona Chamber of Commerce would like to wish the following members a Happy Anniversary and thank them for their support of their community, our organization and its programs and services.
Our sincere appreciation goes to:


JUNE
Bill Black Ranch - 1999
Hospice of San Angelo - 2004
Mr. & Mrs. Fred Deaton - 2007
Holiday Inn Express Ozona - 2008
Lester Wright - 2011
Eagle Safety Management - 2012
L & B Automotive - 2015
Y Bar Ranch Co. - 2015

The Ozona Chamber of Commerce
would like to recognize
AEP Texas
as our
Business of the Month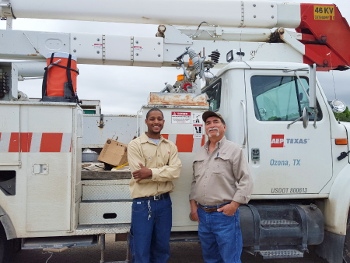 AEP Texas Employees-Ozona
Left to right: Chris Moore & Armando Arredondo
AEP Texas has roots that run deep in south and west Texas. AEP Texas delivers electricity to over a million consumers in nearly 400 cities and communities, and 96 counties. Locally, the company serves approximately 2,300 meters in the Ozona area.
During 2015, AEP Texas delivered over 30.7 million megawatt hours of electricity over a total of 44,000 miles of electric distribution lines, and 9,400 miles of transmission lines within a 97,000 square-mile service territory.
"For nearly a century, we have partnered in the growth and progress of these regions by ensuring a safe and reliable supply of electricity and playing an active role in the community," said AEP Texas, Community Affairs Manager, Fred Hernandez. "Ozona is served by our McCamey Service Center and the 21 employees based there. Two employees live and work in Ozona: Armando Arredondo who has served AEP Texas for 35 years, and Chris Moore who has recently joined the AEP team.
"We are proud Texans who care deeply about the communities in which we live and work," Hernandez continued. "We work closely with Crockett County officials on issues such as street lighting, service to new customers, tree trimming and other reliability issues. No matter which company you choose as your Retail Electric Provider (REP), AEP Texas will continue to deliver electricity to your home or business, as well as maintain the overall electric system, just as we've always done."
The parent corporation of AEP Texas is American Electric Power, one of the largest electric utilities in the United States, delivering electricity and custom energy solutions to nearly 5.4 million customers in 11 states. AEP owns the nation's largest electricity transmission system, a more than 40,000-mile network that includes more 765-kilovolt extra-high voltage transmission lines than all other U.S. transmission systems combined. AEP also operates 223,000 miles of distribution lines. AEP ranks among the nation's largest generators of electricity, owning approximately 31,000 megawatts of generating capacity in the U.S. AEP's utility units operate as AEP Ohio, AEP Texas, Appalachian Power (in Virginia and West Virginia), AEP Appalachian Power (in Tennessee), Indiana Michigan Power, Kentucky Power, Public Service Company of Oklahoma, and Southwestern Electric Power Company (in Arkansas, Louisiana and east Texas). AEP's headquarters are in Columbus, Ohio.
The Ozona Chamber of Commerce would like to recognize AEP Texas and their staff, as an asset to our community. We would like to thank them for their contribution and commitment to providing the best possible service to our local residents.

Print Friendly