As of Wednesday, July 2nd, 2020, there have been 13 confirmed cases of the Virus in Crockett County. Only 7 of those remain active.
The Family Health Center of Ozona has sent the following information to the Ozona Chamber:
Our entire facility and rooms are being cleaned frequently throughout the day, to help prevent the spread of germs. We are now checking temperatures before patients enter in the waiting area and if they have a fever, patients are being assigned a mask to wear and immediately moved to a room to wait for the physician so that other people are not exposed in the waiting area.
If you come to our clinic right now, you will see these signs on the doors;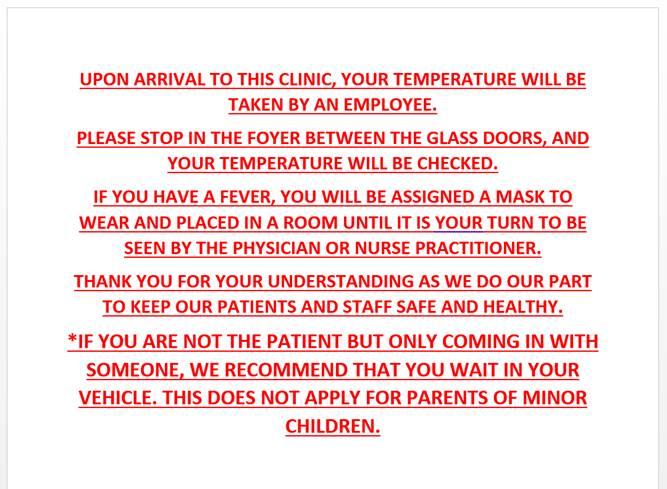 The Ozona Clinic does have a limited number of kits for testing patients for the Corona Virus. Certain criteria must be met before the test is performed, and it is always at the discretion of the Physician, Nurse Practitioner or Physician Assistant.
IF the test is performed on a patient, it is then transported to Shannon Hospital, who in turn sends it to an outside lab. At this time, the turnaround time for test results is 2 days.
If you have any questions about any of the above, please feel free to call the clinic at 325-392-3788.
-updated July 3, 2020 at 6:15 p.m.