As of January 13th, the Texas Department of Health & Human Services COVID-19 Case Counts reported a total case count of 240 confirmed, with 496 recoveries (estimated) and 0 active cases (estimated). Since the beginning of the outbreak, according to the local Family Health Center of Ozona, there have been only twelve COVID-19 related fatalities.
Note: The county has partnered with a Texas Tech University lab in Lubbock to get COVID-19 test results back within 24-72 hours. A county employee is personally driving the tests from the Ozona Clinic to Lubbock each day.
The Family Health Center of Ozona has sent the following information to the Ozona Chamber:
Our entire facility and rooms are being cleaned frequently throughout the day, to help prevent the spread of germs. We are now checking temperatures before patients enter in the waiting area and if they have a fever, patients are being assigned a mask to wear and immediately moved to a room to wait for the physician so that other people are not exposed in the waiting area.
If you come to our clinic right now, you will see these signs on the doors;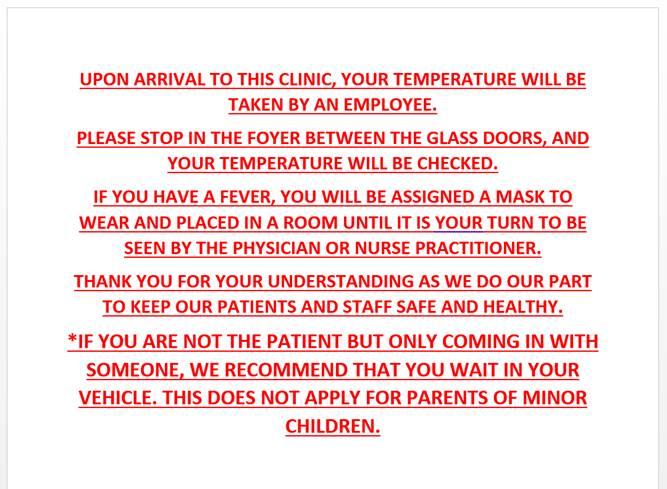 -updated January 13, 2021 at 6:37 p.m.