The Ozona Chamber of Commerce would like to wish the following members a Happy Anniversary and thank them for their support of their community, our organization and it's programs and services.
Our sincere appreciation goes to:

OCTOBER
Fred H. Chandler - 1996
Lowe's Market - 1996
Key Energy Services, Inc - 1997
Mesa Land Services - 1999
Approach Resources, LLC - 2011
Millspaugh Ranch Company - 2011
Snowflake Donuts & Kolache Shop - 2011
Encino RV Park - 2012
Southridge RV Park - 2012
L&S Partners - 2012
Parties to Go - 2013
Kerbow Funeral Home - 2013
Rusty Gold on the Square - 2013
The General Store - 2013
Total Office Solutions of West Texas - 2013
---
Chamber of Commerce
recognizes
Crockett County Consolidated Common School District
as our
Business of the Month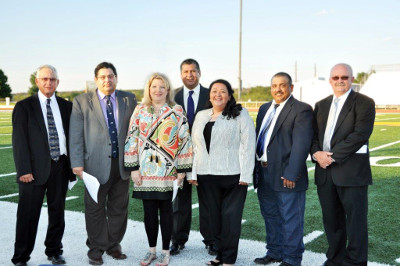 The Chamber of Commerce would like to recognize the Crockett County Consolidated Common School District (CCCCSD) as our Business of the Month.

There were no public school facilities for ten years following the settlement of the first family in Crockett County. The County was sparsely settled, and the population was not sufficient to warrant the establishment of schools. The children of the families were needed to help establish the home, tend the stock, build fences, trap wild animals, and even help in construction of houses.
When the Crockett County Commissioner's Court met July 22, 1891, they voted to accept the lands donated by E.M. Powell for school purposes. The school was also used for County purposes until other facilities were provided. In 1908 the people of Crockett County voted for a $75,000 bond to construct the first permanent Ozona Public School building, now part of the current day high school. A Texas Historic Landmark, made of native limestone, this structure was built between 1910-12. It was one of the first schools with a heating and ventilating system in the state. The first students, a total of three, graduated in 1913.
Today, the CCCCSD is a 2A school system providing pre-k through 12th grade education. There are a total of 859 students among three campuses. We have a proud history in our school system and our County Commissioners and School Board are committed to our students and the facilities that serve our educational purposes. "Our current facilities do present a challenge. Unlike other districts, we are unable to host certain events like district track meets, One Act Play competitions, and other academic events due to our restrictive facilities and services," said Superintendent Raul Chavarria. "While we continue to look at improving our existing facilities through bond elections, what we are in need of is 'land' to be able to expand our facilities. That will in-turn allow us to broaden our programs and curriculum and student opportunities." Our Founding Fathers laid the groundwork in providing outstanding facilities for our students and community to be proud of.
The CCCCSD is only one of three common school districts in the state. The school district receives county tax dollars, which means the decisions for the school district are shared between the CCCCSD Board of Directors and the County Commissioner's Court. "We are fortunate to have a good working relationship between the Commissioners Court and our School Board. The county is very supportive and assists us in terms of needed equipment and labor."
"The teachers are the back-bone of the district. We have 151 total employees, including all staff. While we have a strong foundation, there is no replacement for parental involvement. It is one of our greatest challenges, and having a parent take an interest will only contribute to the success of their child's education and future," said Chavarria.
The CCCCSD is continually working to stay ahead in terms of academics. "The one constant is reading. Watching a student transition from learning to read to reading to learn, is exciting. Students all develop at a different age." The CCCCSD is looking for parents or people who will volunteer to listen to kids read, or to read to kids. There are a number of ways someone can volunteer their services. Chavarria stated the state is moving towards a paperless system where students will reference their study books on-line. However, an on-site library of texts will always be available for student reference.
According to Superintendent Chavarria, teacher state certification for vocational courses has become harder. "We would like to strengthen our welding, Ag, wood shop programs, and add nursing and more to our vocational curriculum. These are vocations that would allow students to give back to an economy that is sorely in need of these types of skills and professions. In addition, this provides an opportunity for students who may not be able to attend college. We also would like to have a technology department and lab classrooms that have the best equipment so that we can provide our students with the most up-to-date curriculum."
"Something that I've noticed is that the local kids of Ozona do not want for anything! The school district is very appreciative of such a giving community. The band, the cheerleaders and scholarship programs, and more are all supported," said the Superintendent.
"The CCCCSD appreciates the recognition of Business of the Month from the Chamber of Commerce. We seek to provide a comfortable and appealing learning environment that instills both student and community pride. The outside of the facilities is a reflection of the learning on the inside. We want to have the ability to attract the best teachers and offer a pay that is competitive with other districts. We want to provide our students with the best possible opportunities. We thank Ozona for their support and look forward to a continued community partnership that will allow us to provide the best public education possible," said Chavarria.
The Chamber of Commerce would like to recognize the Crockett County Consolidated Common School District for their continual effort to provide a quality education to our youth in addition to being an asset to the local business community.
For more information about the CCCCSD or to volunteer your time or services, please call 325/392-5501 or go to www.ozonaschools.net.
---

Print Friendly