The Ozona Chamber of Commerce would like to wish the following members a Happy Anniversary and thank them for their support of their community, our organization and it's programs and services.
Our sincere appreciation goes to:


FEBRUARY
Roy A. Harrell, Jr. Ranch - 1995
Economy Inn & RV Park - 1996
Southwest Texas Electric Coop - 1996
The Ozona Stockman - 1996
El Chato's - 1996
Mr. B. E. Cleere - 1996
Super 8 Motel & RV Park - 1996
Lowe's Market - 1996
Clayton-Hill Ranches - 1996
Joe Bean Ranches - 1996
Ozona Insurance - 1996
Village Drug - 1996
Mrs. L. B. Cox, III - 1996
Steve Kenley -1996
Mrs. Dick Kirby - 1996
Double "T" Ranch - 1997
Mr. & Mrs. Joe Moran - 2003
Baggett Family Limited Partnership - 2004
Mr. & Mrs. Bob Falkner - 2004
OTTER (Ozona Truck Towing & Emergency Repair) - 2007
Debbie Forehand Wilson, Realtor - 2010
---
Chamber of Commerce
recognizes
OTTER (Ozona Truck Towing & Emergency Repair)
as our
Business of the Month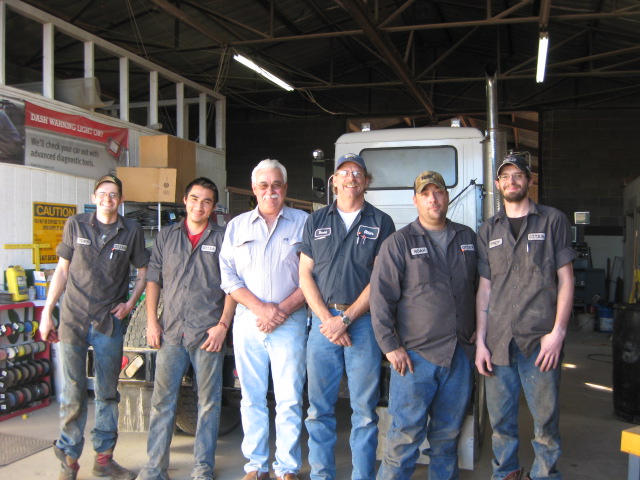 OTTER, formerly known as S & S Trucking, opened its doors in Ozona in 2003, changed their name and began operating as OTTER in 2007.
"We do a little bit of everything," said owner Paul Stroope. "Much of our business is interstate and oilfield servicing. I would say 75% of our business is repair, and 25% is towing. On the repair end, we also work with area hunters and landowners. We work on their ranch vehicles, cattle trailers, sprayers and feeders. We always have a mechanic on duty, two of which are ASE certified. We work on diesel and gas engines. We can handle major mechanical work, electrical, brakes, and advanced computer diagnostics. We do DOT Inspections only."
"We do not work on RV's, motorcycles or foreign vehicles because we can't get the parts. We also spend a lot of time rescuing travelers off the interstate by bringing them gas," said Paul.
OTTER employs five Mechanics: David Lott, David Noah, Troy Ramsey, Juan Chavez, Toby Ramsey, and Office Administrator Shelly Mutschler.
"We work very hard to satisfy all of our customers, and we want to thank the community for their continued support," said Paul.
The Chamber of Commerce would like to recognize OTTER for their continued effort to provide quality service and for being an asset to the local business community.
OTTER is open Monday through Friday from 8:00 a.m. to 6:00 p.m., and on Saturdays from 8:00 a.m. to 6:00 p.m. They are located at 1203 Avenue J, adjacent to the Dollar General Store. For more information you may contact Paul Stroope at 392-2481.
---

Print Friendly