The Ozona Chamber of Commerce would like to wish the following members a Happy Anniversary and thank them for their support of their community, our organization and its programs and services.
Our sincere appreciation goes to:


May
J. Cleo Thompson - 1996
Sunoco Energy Services, LLC - 1996
West Texas Rehabilitation Center - 1998
Jack & Janie Riggs Ranch, LTD - 1999
Crockett County Museum - 1999
Crockett County Public Library - 1999
Better Business Bureau of the Permian Basin - 2000
Ball & Strunk Partners, Ltd. - 2007
Re-Bath of San Angelo - 2008
Hunnicutt Ranch - 2009
Ozona Remodeling & New Construction - 2010
Mi Taco - 2010
Aries Residence Suites - 2014
Names & Numbers - 2014
Monster Roadside Assistance, Inc. - 2015

The Ozona Chamber of Commerce
would like to recognize
Crockett County Water Control &
Improvement District
as our
Business of the Month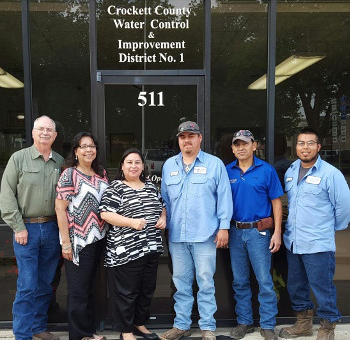 Left to right: Doug Meador, Velma Fierro, Elva Ramirez,
Dominique Perez, Ricky Ramirez, and Jacob Moran
The Ozona Chamber of Commerce would like to recognize the Crockett County Water Control & Improvement District as our Business of the Month.
In April 1941 the Ozona Improvement System was purchased by the Crockett County Water Control & Improvement District No. 1 (WCID#1 / District) that was established by the Texas legislature in 1940. At that time it became a governmental agency with taxing authority (no taxes have ever been levied or collected). The first official meeting of WCID#1 was December 9, 1940, with the following Directors: J. W. North, J. D. Kirby, P. L. Childress, Jr., Boyd Clayton and H. M. Phillips. The Board employed Pat Mahan as the first manager April 4, 1941.
The current Board of Directors are Dan Davidson-President, Dennis Clark-Vice-President, Pon Seahorn-Secretary, Cole Crenwelge-Director, and Ty Allen-Director.
The District is regulated by the Texas Commission on Environmental Quality (TCEQ) that enforces rules set forth by the Texas legislature. The District has received the rating as a Superior Water System by TCEQ.
The District continued to expand as the town site of Ozona grew. In 1967, after taking care of the water/wastewater system for the Ozona Air Force Base for several years, the District purchased the water system, water rights and water/wastewater system located in Crockett Heights. The District continues to serve Crockett Heights and the Circle Bar Truck Stop and provides water, sewer and sanitation services to Crockett County.
The District has had a total of 5 general managers since 1941: 1941-1942-Pat Mahan, 1942-1943-Buddy Moore, 1943-1984-W. D. (Bill) Cooper, 1984-2002-D. W. (Dee) Keilers, and 2002-Present-Doug Meador.
"In the early 1990's with the assistance of Crockett County, the District started a grant program that would improve water and wastewater systems at minimum cost to its customers. The projects have replaced water and wastewater lines, and installed the south stand pipe and pump station. The Board of Directors continues to seek these funds," said Doug Meador, General Manager.
"In 2002 customers voted on a bond issue for the District in which major improvements were made including new storage tanks, pipelines, pump station and fire hydrant replacement."
Currently the District has received funding/grants from USDA for water and wastewater improvements. Work will involve a new lift station and wastewater line replacement at Crockett Heights, new water lines from First Street and Ave G to Thirteenth Street and Ave G, State Highway 163 at Monterey to Leal Street. A new line will be established on State Highway 163 south to facilitate fire protection for businesses within the District. Generators will be installed at 3 lift stations and at the North Water Pump Station. Also improvements are planned for the District's main wastewater facility.
"Incorporated in this package is a new automatic meter infrastructure. The District is excited about this system since it includes the newest technology in automatic meter reading. Not only will this system save the District time, but will contribute to more stabilized reading dates. This system will also allow the District to monitor for excessive usages during the month and affected customers can be contacted and advised of the situation," said Doug. "The new system also has the capacity of allowing customers to look at the meter information online.
Current employees are: Doug Meador-General Manager, Ricky Ramirez-Superintendent, Velma Fierro-Office Manager, Elva Ramirez-Accounts Receivable, part-time office employee Alysha Lara, and Juan Malacara, Foreman. Other employees include Thomas Fierro, Sergio Lugo, Dominque Perez, Jacob Moran and recently retired and missed employee is Francisco Esparza.
The Crockett County Water Control & Improvement District #1 office is located on the town square at 511 Eleventh Street. Their hours of operation are Monday through Friday 8am-12noon, and 1pm-5pm, closed weekends and holidays. You can reach them at 325/392-2730. For emergencies, you can call 325/226-1476, 325/226-4800 or 325/226-4801.
The Ozona Chamber of Commerce would like to recognize the Crockett County Water Control & Improvement District #1 office and their staff, as an asset to our community. We would like to thank them for their commitment to providing the best service possible to our local residents.

Print Friendly