The Ozona Chamber of Commerce would like to wish the following members a Happy Anniversary and thank them for their support of their community, our organization and it's programs and services.
Our sincere appreciation goes to:

SEPTEMBER
Unifirst - 1997
Soto, Inc. - 1998
West Texas Wind Energy Partners - 1999
DCP Midstream - 2002
Gries Ranch - 2006
Jody K. Upham, Attorney at Law - 2008
Carmen Sutton - 2010
Valliant Ranch - 2011
David & Dena Porter, Ambit Energy Independent Consultants - 2012
Francine Friend - 2012
---
Chamber of Commerce
recognizes
Bug Express Pest Control
as our
Business of the Month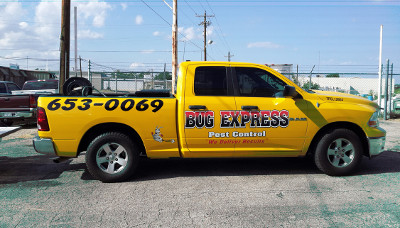 "Bug Express Pest Control…..a name you can trust; not simply words written on paper but words that represent a philosophy of business which affects thousands of customers. Each of them depends on Bug Express Pest Control and what we represent to deliver on our promise of results," said business owner Darlene Jones.
Bug Express Pest Control was established with the vision of becoming a small, West Texas family business. Bug Express Pest Control grew one customer at a time, good referral upon good referral. "We have become the area leader in termite home inspections, pest control, and bee control." From that position, Bug Express Pest Control has been able to have the strength to launch other valuable services such as termite treatments, commercial and residential pest control. "From the most humble beginnings, we continue to grow as we diligently meet the needs of our customers."
Bug Express Pest Control has over 50 years of combined knowledge and experience in pest management. They believe in providing unmatched service with experienced and uniformed technicians and full service capabilities. They offer complete quality-assured programs for manufacturing, food processing and distribution, supermarkets, hotels/motels, food service/restaurants, healthcare facilities, property management companies and their apartment complexes, and various other construction and retail establishments.
Bug Express Pest Control boasts "trained and experienced technicians." "The key to success in any pest management program is directly dependent upon the quality of people that deliver the service. Bug Express Pest Control continually educates and trains our service technicians in the most advanced pest management techniques. Keen attention to quality people has enabled us to retain skilled technicians, whose training and experience assures you of consistently receiving the highest quality service." said Darlene. "We are constantly increasing the knowledge and skilled training of all of our team members and you share the many benefits of our commitment to excellence." The Bug Express Pest Control service technician is your pest management expert."
"At Bug Express Pest Control, we value the relationship of trust we have worked so hard to establish with Crockett and surrounding counties. We believe our success together is a direct result of those relationships," said Darlene.
For more information, or to schedule your pest control appointment, call 325/653-0069, or go to www.bugexpress.com.
The Chamber of Commerce would like to recognize Bug Express Pest Control for their efforts to provide quality service in addition to being an asset to the local business community.
---

Print Friendly