The Ozona Chamber of Commerce would like to wish the following members a Happy Anniversary and thank them for their support of their community, our organization and it's programs and services.
Our sincere appreciation goes to:


DECEMBER

Perry Family Trust - 1983
Oglesby Ranch Company - 2003
Barnhart Shaw's General Repair - 2005
Preddy Tire Service - 2006
Discovery Natural Resources, LLC - 2007
Casey A. Riley, Systems Consultant - 2008
Nabors Well Service - 2008
Bug Express Pest Control - 2012
Gallery Cafe - 2012
Interim Healthcare Hospice - 2013
S & R Construction - 2013
---
Chamber of Commerce
recognizes
Ed Collett & Son Gun & Machine Shop
as our
Business of the Month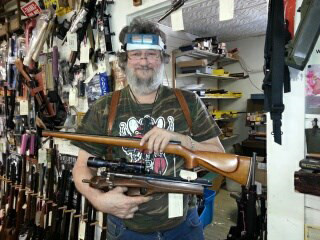 Owner of Ed Collett & Son Gun & Machine Shop,
Will Collett shows off the first gun (top)
he built in fifth grade (single shot, bolt action, .22 rifle),
and the gun he later built in gunsmith school
(single shot bolt action hand gun).
The Chamber of Commerce would like to recognize Ed Collett & Son Gun & Machine Shop as our business of the month.
It all started with the first gun he built in fifth grade. "Well, my dad was trying to build a gun. So that I wouldn't be in his way, he had me build my own." Will Collett is a 1971 graduate of Ozona High School. " After high school I played college basketball for a year for Ranger Junior College. I came home and worked out in the oilfield for awhile. It was then my dad and I had a sit down! I wanted to be jeweler. My dad was a home hobbyist who liked to build guns. He told me if I went to school to build guns, he would give me a gun shop."
Will completed a two year program at the Colorado School of Trades where he received his certification in professional gunsmithing. "It is one of only two real gunsmith schools in the nation," said Will. "The program is still offered today, and Gunsmiths are still in demand."
"My mom bought the building that used to house Small Fashions. Before that it was Paskal Drug Store. It was a two story building and the upstairs was vacant for a long time. I came back to Ozona after trade school, and I taught my dad how to be a gunsmith. We worked out of a shop at the house for two years. I was thinking when I came back from school that I would just walk in and be a gun shop owner! Instead, my dad took me up to the vacant portion of the building my mom had purchased, and said here you go! Before I knew it, I was co-signing on a note for $3,900. I put the shop together and opened it in 1976 as Will's Gun Shop. After dad retired, he came over and worked in the shop for me. We decided to give the shop a more traditional name thinking it would bring more customers, and it did. We changed the name to Ed Collett & Son Gun & Machine Shop. Dad supported me in everything I did and worked with me for 20 years."
Ed Collett & Son Gun & Machine Shop buys, sells and trades guns that are legal. They also buy, sell and trade ammunition for obsolete weapons. Will builds all types of guns. "My favorite is a single shot revolver, and my specialty is "trickin out" the gun with a nice design. I don't engrave for the public anymore, but I enjoy it." The shop specializes in custom gun making. "The difference between buying a gun somewhere else and my shop is, if you have a problem with the gun, I can fix it here rather than sending it back to the manufacturer. If I am not voiding your warranty in any way, I'll fix it. You can also order a gun from out of state and have it delivered to the shop for pick-up"
Also at the shop is a large inventory of knives, swords, helmets, guns and rifles. Theme helmets and accessories from Lord of the Rings, Spartan, Spartacus, weapons from Persia-Sands of Time, axes, hatchets, gift items in the form of lighters or lanterns, big bang cannons, targets for shooting and more. "Anything related to hunting with the exception of clothing," said Will.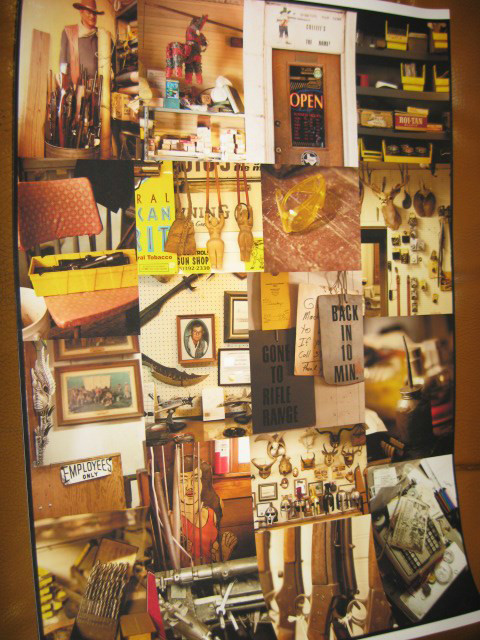 "I was told many years ago that a business like this would not survive in a town with a population of less than 100,000. I would say that fifty percent of my customers are local, most of which bring their guns in for repair. The other fifty percent are from out of town. I have repaired granddad's gun, his son's, and now I am seeing the grandkids. I really appreciate the local support and their doing business with me. I would just say, if you can afford it, try and buy local. We're losing the small mom and pop shops and that personal service."
The Chamber of Commerce would like to recognize Ed Collett & Son Gun & Machine Shop for their continued effort to provide quality service and for being an asset to the local business community. Ed Collett & Son Gun & Machine Shop is open Monday through Friday from 10:00 a.m. to 6:00 p.m. For more information, you can reach Will Collett at 325/226-5188.
---

Print Friendly