The Ozona Chamber of Commerce would like to wish the following members a Happy Anniversary and thank them for their support of their community, our organization and it's programs and services.
Our sincere appreciation goes to:

JULY
Morado Accounting & Tax Service-2013
Ozona Environmental, LLC-1998
Esperanza Ranch-2005
Devon Energy Corporation-2008
Ad Art Signs-2009
Twistflower Ranch-2009
Lowe's Market-2010
Oglesby Ranch-2010
Noelle Land & Mineral-2011
Kenny Blanek's Village Cafe & Catering-2012
Bob & Lynda Falkner-2004
Super 8 Motel & RV Park-1996
Moran Construction-2013
Crockett Automotive-1997
Travelodge-1996
X-Bar Ranch-2010
Close To Our Hearts-2006
Texas Farm Bureau-2009
Snowflake Donuts & Kolache Shop-2011
---
The Ozona Chamber of Commerce
recognizes
the Sonora Bank
as our
Business of the Month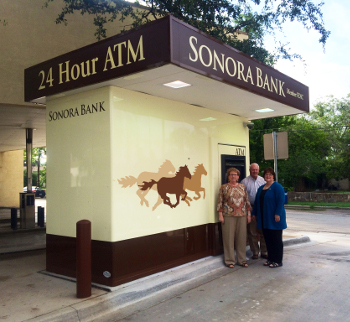 Pictured from left to right are:
Kay Stewart, SVP Branch Manager/Lending,
Gary Gruben, VP/Lending, and
Tonya Brown, VP/Assistant Branch Manager/Lending.
The Chamber of Commerce recognizes Sonora Bank, a long-standing member of the Chamber and supporter of the community of Ozona for many years, as the Business of the Month.
For over 114 years, Sonora Bank, formerly known as The First National Bank of Sonora, has been serving customers all over West Texas and beyond. "We pride ourselves in being recognized as a local 'hometown bank' and know our customers by name," said Kay Stewart, Senior Vice-President Branch Manager/Lender. " The bank logo was created with 3 different colored horses running the same direction. The logo depicts change, diversity and strength moving forward."

"With just under 100 employees we're big enough to handle all your banking needs, yet still small enough that you get a great customer/banker relationship. To date, we have a branch in Sonora, two branches in San Angelo, one branch in Boerne and in January 2014 we acquired what is now known as Sonora Mortgage in Boerne," said Kay.



Presently, Sonora Bank continues to be a family owned community bank with many of the descendants of the original Board of Directors serving on the current Board. The Directors and Staff strive to fulfill our mission of "Providing Excellent, Professional Financial Services in a Hometown Atmosphere".
The Chamber of Commerce would like to recognize Sonora Bank for their efforts to provide quality service in addition to being a long time contributor to the community of Ozona.
For more information stop by any of the local branch offices, or visit www.sonorabank.com.
---

Print Friendly