The Ozona Chamber of Commerce
presents the
5TH BI– ANNUAL
SOUTH WEST TEXAS OIL & GAS
TRADE SHOW
SEPTEMBER 30TH-OCTOBER 1ST, 2015
OZONA, TX
Click here for the Registration Form


The Ozona Chamber of Commerce would like to wish the following members a Happy Anniversary and thank them for their support of their community, our organization and it's programs and services.
Our sincere appreciation goes to:


JUNE
Bill Black Ranch - 1999
Hospice of San Angelo - 2004
Judge & Mrs. Fred Deaton - 2007
Mr. & Mrs. Will Hoover - 2007
Holiday Inn Express Ozona - 2008
Lester Wright - 2011
Eagle Safety Management - 2012

The Ozona Chamber of Commerce
would like to recognize
Parties to Go as our
Business of the Month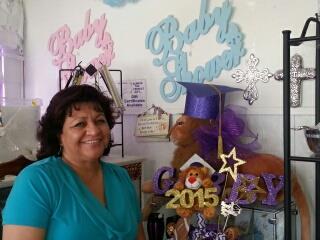 The Chamber of Commerce would like to recognize Parties to Go, operated by owner Romie Fierro, as our Business of the month. Parties to Go first opened its doors in December 2012.
"This all came about after I had collected so much stuff at home, my husband Federico, known as Lico by most of his friends and family, told me I was going to have to do something! He is my biggest fan and encouraged me to open up a shop," said Romie. "So that's what I did with the help and support of friends and family, but it has been difficult to run the shop and work full-time."
"Many people are not aware that I am no longer at the Care Center. This is my passion! I love helping people prepare for whatever occasion they are planning. I am so excited! This kind of work makes me happy, and now I plan to dedicate myself to the shop."
"People come to me with their needs. My best ideas come to me in the middle of the night, or when I am under pressure from someone who has forgotten an occasion and needs help! I had a gentlemen stop in off the interstate who wanted to take home an arrangement for his wife in New Mexico. I can work in Ozona and out-of-town."
You can find a variety of items at Parties to Go. Everything from party decorations including birthday themes, gifts, wrapping, housewares, purses, jewelry, party favors, frames, balloons and much more. "We can help you create a theme and select accessories for weddings, quinceaneras, baby showers, graduations and more. We also now carry items for baptisms and communion," said Romie.
"Very soon we will have supplies available so that you can come in and pick out your own center piece. You can either build it yourself or we will help. No two centerpieces are ever the same. I try to make everything unique. We also plan to offer classes in the future. These will be learn-how-to workshops."
"Parties to Go has rental supplies such as table linens, chair covers, chair sashes, arches, columns, chandeliers, tables and chairs. If we don't have it we will order it for you and have it for you in no time.
The Chamber of Commerce would like to recognize Parties to Go for providing a quality business that is an asset to the community.
---

Print Friendly