The Ozona Chamber of Commerce
presents the
5TH BI– ANNUAL
SOUTH WEST TEXAS OIL & GAS
TRADE SHOW
SEPTEMBER 30TH-OCTOBER 1ST, 2015
OZONA, TX
Click here for the Registration Form


The Ozona Chamber of Commerce would like to wish the following members a Happy Anniversary and thank them for their support of their community, our organization and it's programs and services.
Our sincere appreciation goes to:


AUGUST
Ozona Environmental, LLC – 1998
Esperanza Ranch – 2005
Angelo State University – Small Business Development Center - 2006
Twistflower Ranch – 2006
Devon Energy Corporation – 2008
Ad-Art deSigns – 2009
Close to Our Hearts Country Store – 2010
Noelle Land & Mineral – 2011
Kenny Blanek's Village Café & Catering – 2012
Mesquite Trading Company, Inc. – 2014
Hunt Ranch – 2014

The Ozona Chamber of Commerce
would like to recognize
Ozona Insurance as our
Business of the Month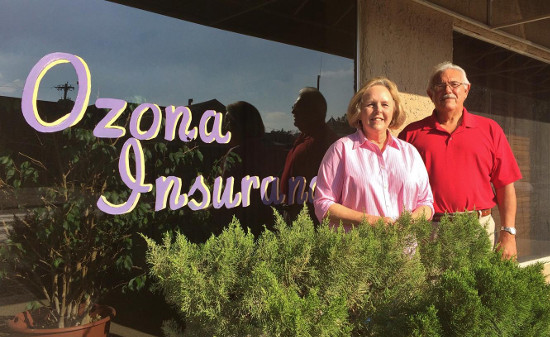 Ozona Insurance is proud to be a local supporter of the Ozona community: donating to the school, involved in the Chamber of Commerce, buying local and also employing people who live in Ozona.
The original agency was started by Jack Baggett, Sr. and ultimately purchased by his son Jack, Jr. Around 1994, Jack decided to concentrate 100% of his time to ranching and Bob and Guy Cauthorn purchased the agency. They felt welcome from the word go and still do. In 2000, Guy, who also owns Doyle Organ Insurance in Sonora, purchased Bob's share of the agency.
Ozona Insurance offers all types of insurance from PRF drought, commercial, residential, life and also health insurance. "Our main lines of business are obviously, based on our geographic location, drought, oil and gas and farm and ranch insurance but we have real good experience in both commercial and residential," said Guy Cauthorn, owner.
The current owner is Guy Cauthorn of Sonora. "Employees who work in the Ozona office are Deborah Bourne and Buster Reina, who hold down the fort."
Deborah, who most everyone in the town knows, has been with the agency the longest. She processes the business, and always has a friendly smile for whoever walks in the door.
Buster joined the agency over a year ago after being in the insurance business in the Metroplex for over 30 years. He and his wife Cuquita decided to come back home a few years ago. Like Deborah, he is well known and is very conscientious about his customers.
Ozona Insurance acknowledges the support of a community that attempts to buy local if at all possible. It is an honor to be named Business of the Month and it is sincerely appreciated.
The Chamber of Commerce would like to recognize Ozona Insurance for providing a quality business that is an asset to the community.
---

Print Friendly