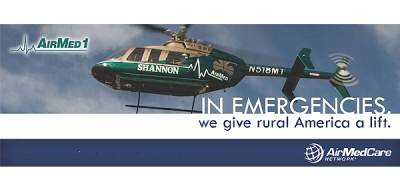 Business of the Month
The Ozona Chamber of Commerce recognizes AirMedCare Network as our Business of the Month
The AirMedCare Network is an alliance of affiliated providers offering the largest air ambulance service across the country. Shannon AirMed1 is owned and operated by Med-Trans, a division of AirMedCare.
"AirMed1, the helicopter air ambulance service, has a crew of three; a flight medic, RN and pilot. These crews are the best of the best," said Jade Hambright, Membership Sales Manager for AirMedCare Network.
"Ozona and Crockett County are mostly serviced out of our San Angelo base, but there may be times when our Ft Stockton or Odessa bases may need to fill in.
"It's all about the golden hour and critical need. Our mission is to make it possible for people living in rural areas to get the life-saving emergency care they need, when they need it. The flights are expensive and health insurance only pays a portion of the bill. AirMedCare Network includes 320 base operations across 38 states," said Jade.
"Thanks to the Crockett County Commissioner's Court, the county pays for air ambulance service for all residents of Crockett County. For $35 a year, residents can upgrade this service and have access to a nationwide network by joining the AirMedCare Network. This membership covers all residents in the household. Your membership also helps support our base operations.
"If you are in an accident outside of Crockett County, $35 a year is well worth it to avoid the high cost of air ambulance service."
The Ozona Chamber of Commerce would like to recognize AirMedCare Network and thank them for their partnership and the service they provide to Crockett County residents.
For more information on how to upgrade your Crockett County membership, call 325/213-5251 or e-mail Jade.hambright@airmedcarenetwork.com. You can also visit www.airmedcarenetwork.com or join on-line at www.AMCNRep.com/Jade-Hambright.