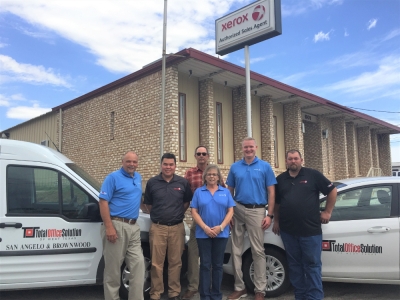 Left to right: Robert Swenson, Brownwood Xerox
Sales Rep; Peter Helfrich, San Angelo Xerox Sales
Rep; Patrice Fiveash, San Angelo Area Office Supply
Rep; John Dooley, Analyst; Scott Dover, Client Asset
Manager and Raymond Allen, Technician/Delivery.
Business of the Month
The Ozona Chamber of Commerce recognizes Total Office Solution of West Texas as our Business of the Month.
Founded in 1978 by Joe Jarnagan, Petroplex Office Supply, Inc. (now Total Office Solution of West Texas) has come a long way from its beginnings in its home office in Odessa, Texas. When Joe Jarnagan first started out, his passion for providing the best customer service in the office supply business gave him the impetus to turn hard work and inspiration into a booming office supply store serving most of West Texas. In January of 2000 Joe Jarnagan sold Petroplex Office Supply to long time employees Donna Wallace, Tommy McCrury & Cheryl McCrury.
"Our goal, for the last 40 years, has been to help simplify business products procurement while helping companies in the West Texas area control the costs of running their offices," said Tommy McCrury. "We would welcome an opportunity to earn your business. We are a One Call-One Source-One Solution company with a comprehensive selection of products focusing on two platforms of business. For Office Equipment we offer Xerox Copiers and HP Printers. For Office Supplies we offer many items like coffee and snacks for your breakroom, to cleaning products, office supplies, office furniture and safety products. Our job is to understand your needs, recommend solutions and manage the details, so you can focus on your business. We'll get it to you quickly—typically the next day–and place your orders right where you want them."
100% Satisfaction Guarantee: Were you satisfied with the product? If not, we'll take it back and replace it with an item that meets your needs.
Competitive Prices: Being local doesn't mean we aren't competitive with the national chains and e-commerce players when it comes to prices, and we'll help you find ways to manage your costs.
Locally Owned and Operated: We live, work and play right here in West Texas with offices in Odessa, Midland, San Angelo and Brownwood.
Our reputation is important to us and we value our customers. We believe we can deliver significant benefits to your organization from both a cost and ease of doing business standpoint. I propose we meet briefly to discuss your business needs and assess how we might work together to benefit your company's bottom line
"We would also like to thank our customers and friends in the Ozona and Sonora markets. We have built an awesome network of customers in these markets. We would like to thank our current customers, such as the Crockett County offices, Sutton County offices, C&J Energy, John Stokes CPA, Ozona Bank, J. Cleo Thompson Wellness Center, Sonora Bank and so many more. If we can help your business, please let us know. We do appreciate all of our customers," said Patrice Fiveash.
The Ozona Chamber of Commerce would like to recognize Total Office Solution of West Texas for the quality service they provide to the community and the region.
You can reach Total Office Solution of West Texas by calling 325/944-2199, or contact Ozona's Sales Representative Patrice Fiveash at 325/234-5533 to set up an appointment with her during one of her two visits to Ozona per month. You may also e-mail her at patricef@totalofficesolution.biz or visit www.totalofficesolution.biz.