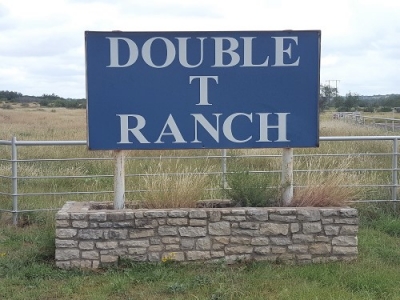 Business of the Month
The Chamber of Commerce would like to recognize Double T Ranch as our Business of the Month.
The land that comprises the Double T Ranch has been owned by the J. Cleo Thompson family for over 50 years. Located on the northwest edge of Ozona, the Double T encompasses the Crockett County Airport near her east border and sprawls to the west for about 15 miles. Cattle, hair sheep, and plenty of native wildlife roam the pastures which are worked by Jimmy Nowell, Bill Brown, and Art Roane.
"We've been fortunate to be able to use resources provided by the Thompson family and Mother Nature to try to improve the land, livestock, and wildlife here," says Art, manager since 1989. "Nature is teaching us that she is a willing partner if one pays attention and tries to work with, instead of against, her. We are continually learning from the opportunities that each day offers. We plan animal working, pasture, and equipment usage with flexibility to be able to deal with unforeseen circumstances such as rains or lack thereof. The abundance and diversity of forages from this year's welcome rains have helped heal the ground that resiliently sustains through periodic drought. The health of the land is a top priority here as we believe that healthy land equals healthy animals and good water. Because a portion of Ozona's water supply comes from wells on the Double T, and the quantity and quality of that water is tied to what grows on and in the soil, we strive to make responsible decisions as land managers, be that with brush control, planned grazing, livestock numbers, mix of grazing species, or influencing wildlife population and diversity.
"The owners and crew on the Double T Ranch take being a part of the community seriously and will continue to make responsible choices that enrich that relationship."
The Ozona Chamber of Commerce would like to recognize Double T Ranch for their commitment to quality regarding resources, especially water, that is so valuable to the community.
For more information, or if you have any questions, you can contact the Double T Ranch at 325/226-5416, or by fax at 325/392-2595 or by E-Mail: aroane@jcleo.com.