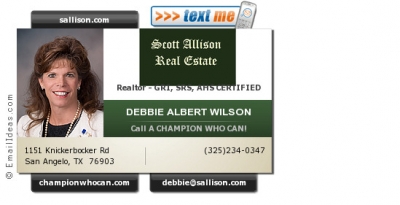 Business of the Month
Ozona Chamber of Commerce
recognizes
Debbie Albert Wilson, Realtor
as our
Business of the Month

"As a World Champion and twelve time National Springboard Diving Champion, I know what it takes to get positive results - experience (top producer and self-employed Agent at Scott Allison Real Estate since 2011), 100% effort, energy, enthusiasm and the belief "I Can" which my God has blessed me with– works", said Debbie Wilson.

"If you are looking for a true professional and someone who is going to "Dive In" and get after it to handle the sale of your home, ranch, or commercial property, or are looking to purchase any of the fore-mentioned, then I am the realtor for you."

Debbie is the daughter of longtime Ozona residents, Bill and Nancy Forehand and is now part owner of the ME 2 Ranch South of Ozona. She has worked with a number of Crockett County residents and looks forward to providing her personal and committed best.

Debbie is also the first woman athlete to receive a Title IV full-ride swimming and diving scholarship to Cal Poly State University, where she earned a BS Degree in Physical Education.

"I have worked with a number of Crockett County residents and I am very appreciative of this recognition. I am committed to the residents of Crockett County and will continue to provide my personal best," said Debbie.

The Ozona Chamber of Commerce would like to recognize Realtor Debbie Albert Wilson for her commitment to providing the best possible service to our local residents.

For more information you may contact Debbie at 325/234-0347, or e-mail her at Debbie@sallison.com, or visit www.sallison.com.