You're Invited!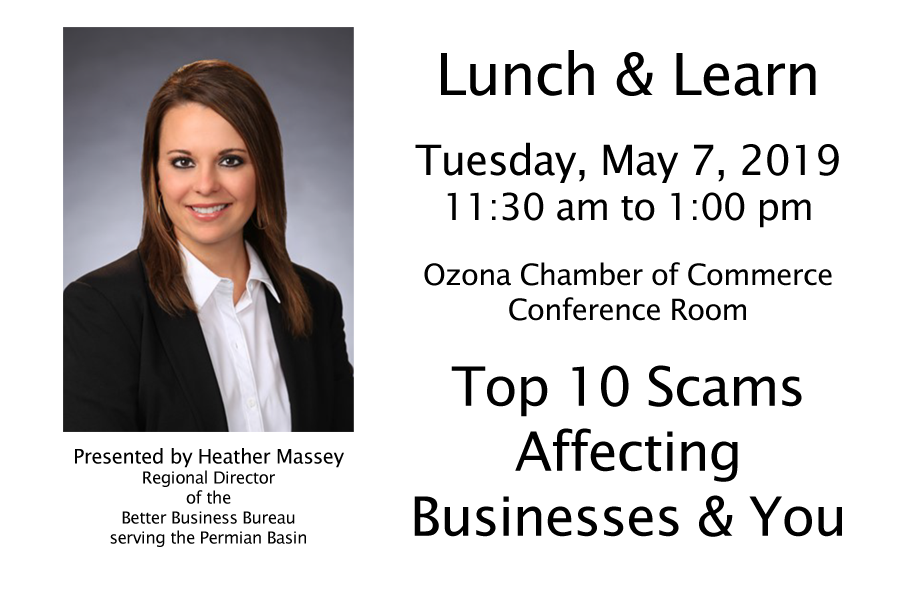 • Sometimes, it can be hard to tell if a job is real…. or a scam. Learn how you can identify fake job offers and avoid employment scams.
• Whether you're a buyer or a seller, online transactions require extra caution. Learn how to avoid online purchase scams.
• It happens to tens of thousands a day! Learn how not to be a victim of a fake check scam.
• Have contractors in your neighborhood? How can you tell if a contractor might be a con artist? Join us to receive handy tips on how to avoid getting scammed on home repairs.
---
The Ozona Chamber of Commerce would like to wish the following members a Happy Anniversary and thank them for their support of their community, our organization and its programs and services.
Our sincere appreciation goes to:
April

Knox Floor Covering Company - 1965
Crockett County Abstract Company - 1997
Thomas Cameron, Attorney at Law - 1997
Family Health Center of Ozona - 1998
Charles McCleary - 2006
J. D. Crowder Contract Pumping & Consulting - 2006
Howard's Well Ranching Company - 2010
Giles & Becky Davidson Madray - 2010
X-Bar Ranch Nature Retreat - 2010
Sonic Drive-In - 2011
Dublin Hunters Group - 2011
Sam's Club - 2011
AirMedCare Network - 2012
Jarrett Juno Ranch - 2012
Shannon AirMed 1 - 2013
7 Oaks Ranch / Kelly W. Walker - 2014
Village Barber and Beauty Shop - 2015
D's Liquor Store - 2016
Lester Wright - 2018
Pandale Crossing River Resort - 2018
Las Cuevas Ranch - 2018