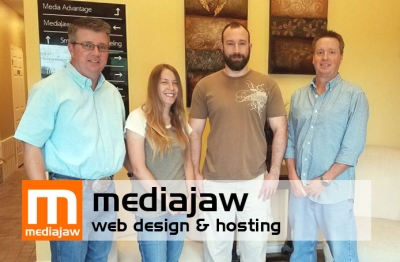 Founded by Jody Gentry, Mediajaw Web Design & Hosting has been developing websites in San Angelo since 1997. "It originally started as a part time, work at home job for a single father, while attending Angelo State University," said Jody. "The phone quickly started ringing and the jobs started trickling in. Within three months, I was withdrawing from ASU and looking for office space.
Twenty years and three offices later, we are still here and as busy as ever! In addition to building websites, we also provide complete email service, website hosting and domain name registrations. We also provide many other services including logo design, business cards, brochures, fliers, banners, and just about any other graphic service you can imagine. Whether you need a simple website with just the basics, or an e-commerce site with all the bells and whistles, we can handle your next project. We also offer discounts to all Ozona Chamber members!
"Social Media? We do that, too! Whether it's setting up a new page, recovering a page that someone else setup or just cleaning up your existing social media pages, we have experience with Facebook, Twitter, Google+ and all the other platforms. Call us to get started!
SEO Services? Got a site already, but just can't get noticed on the search engines? Give us a call and let us give you a fair and honest review of what we can do to help with your company's online visibility. Sometimes it can be as simple as changing a few titles tags on your homepage. Call for a free, no obligation analysis of your current campaign and let's see if we can help you GET NOTICED!
We proudly support the Ozona Chamber of Commerce and our fellow clients in the area, including the Crockett County Deerfest Association, Bunger Real Estate, the Crockett County Historical Commission, The Glover Company and the Ozona Weed Wash."
The Ozona Chamber of Commerce would like to recognize Mediajaw Web Design & Hosting for their commitment to provide quality service to our local businesses and community.
Mediajaw Web Design and hosting is located at 3157 Executive Drive in San Angelo, but can be reached at 325/656-8927, or by e-mail at jody@mediajaw.com. You can view their services at www.mediajaw.com. Open Monday through Friday....