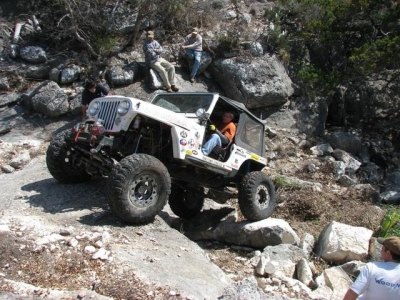 Business of the Month
Watch their exciting video here!
Escondido Draw Recreational Area (EDRA) is "the" regional place to ride off-road vehicles which include 4x4 jeeps/trucks, ATVs, SxS, and motorcycles. There is no place to ride like it for hundreds of miles. The park also offers a place to hike or run, bird watch, ride horses and mountain bike, on its spacious 5.5 square miles hosting over 110 miles of trails located in the draw. The park is run by a non-profit organization which accepts donations for park enhancements in your or your business name. "Our major partners are Texas Parks and Wildlife, National Off-Highway Vehicle Conservation Council, Polaris, and Yamaha." said Justin Massingill, President of the Texas Motorized Trails Coalition, the organization that owns the park.
EDRA is located off the Mitchell Blacktop at 3285 County Road 406 Ozona, TX 76943. If you're driving off I-10 exit on to 290 south to CR 406, cross three cattle guards then turn left into the park as you see the EDRA signage. Just enter the Lat/Lon in Google maps on smartphone and you can navigate directly to the park. 30°35'06.0"N 101°34'58.4"W.
The park is open to the public for anyone who wants to ride off-road vehicles. In the riding area there are over 110 miles of scenic trails, with many rest stops, and two toilets. EDRA keeps the facilities open year around. Reservations can be made through the EDRA Facebook page by posting a request page, or by calling Tom Anderson at 325-226-4124. You can ride for the day or bring your RV and stay for the weekend. Primitive camping is allowed and encouraged.
"There are enhancements in progress. At the trail head, there will be potable water, electric power and septic for the public use. These utilities make possible a 35 space RV park planned for opening late 2018. Other projects are the Toilet/Showers, Pavilion and the Nature Center/Office. Primary electric power and approved septic systems were installed last year. Our municipal quality water treatment plant project will start construction 1st quarter 2018," said Ron McMillan, Project Manager.
"At the current time, we are taking employment applications for local residents who would be interested in managing the park, or donating their time to worthy projects in exchange for free riding privileges. Anyone can join TMTC by paying the low annual dues and enjoy discounted family access at this or their Barnwell Mountain Recreation Area park located in Gilmer, Texas," said Ron.
The Ozona Chamber of Commerce would like to recognize the Escondido Draw Recreational Area and their owners, the Texas Motorized Trails Coalition, for their persistence and commitment to the completion of this park. In addition, we would like to recognize EDRA as one of the newest attractions to Crockett County.
More information can be found at: www.facebook.com/EscondidoDrawRecreationArea or