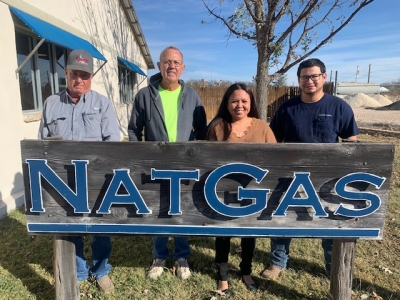 Left to Right: Ed Hale-General Manager, Byrl Allen-Senior
Technician, Linda Ruiz-Office Manager, and Javier
Barrera-Service Technician
Business of the Month
The Chamber of Commerce
would like to recognize
Natgas
as our
Business of the Month
Natgas, Inc. was established after the gas company was purchased from Energas in January 1985 by Norman and Janet Smith. A vital asset to the community, Natgas, Inc. is the sole provider of natural gas to the residents of Ozona and the surrounding area. It is currently located at 901 Ave H, and open from 8:00 a.m. to 5:00 p.m., Monday through Friday.
Employees of Natgas, Inc. are Ed Hale- General Manager, Linda Ruiz-Office Manager, Javier Barrera-Service Technician, & Byrl Allen-Senior Technician. Natgas provides a full range of professional services to its valued customers. We prioritize public safety by conducting leak investigations and maintaining all gas lines in a high state of repair. In the interest of a safe community environment, a 24 hour on-call technician is available for emergency situations. In addition, Natgas, Inc. provides yearly awareness information on regulations that govern general public conduct concerning gas detection, pipeline and excavation safety.
Natgas, Inc. is an authorized General Electric dealer that offers a variety of modern water heaters, household and recreational appliances in its showroom with special orders on request. This allows customers the opportunity to purchase locally without traveling long distances at very affordable prices. Qualified customers may choose from several payment options including financing of up to 36 months. Free delivery is available, however, there may be a parts and labor charge on certain deliveries. Warranty work and general repairs are available as needed. Customer satisfaction is a priority.
Natgas, Inc. values community improvement and growth by donating to many organizations throughout the year.
"We appreciate our customers, and want to sincerely thank you for the privilege of serving you in the past, and continuing to serve you in the future," said Ed Hale. "Natgas, Inc. also appreciates and thanks the Chamber for choosing us as the December Business of the Month."
The Chamber of Commerce would like to recognize Natgas, Inc. for their efforts to provide quality service in addition to being an added asset to the local business community.
For more information you may contact Natgas, Inc., at 325/392-2201, by fax 325/392-2936, or by e-mail at [email protected].