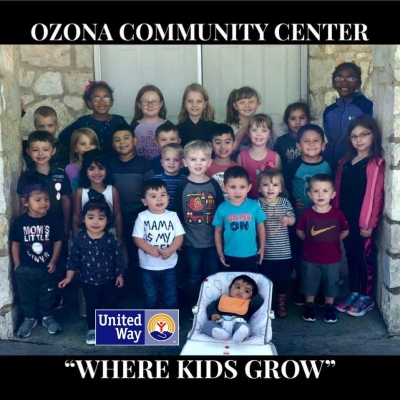 Business of the Month
The Chamber of Commerce
would like to recognize the
Ozona Community Center
as our
Business of the Month
The Ozona Community Center provides a place for 30 children to learn, interact, play and grow.
It's a place where working parents can bring children while continuing to provide for their families.
Let us take you through a day at the Ozona Community Center, where children are dropped off each morning and greeted with warm smiles by their teachers Yareli Rodriguez, Audrey Gandar, Dustine Perez and Elie Cassaro, before sitting down to a healthy breakfast prepared by our cook, Victoria Ramos. After that it's circle time where ABC's and 123's are learned, and books are read. Then it's time for making crafts, painting pictures or coloring letters. After a healthy lunch and a restful nap time, it's time for imaginative play, where superheroes fly, pirates battle, and princesses twirl.
There's also the infant room run by Linda Florez, where the smallest ones are rocked, fed, cuddled and play.
Let's not forget the after-school program led by Jazveth Gonzales, where 12-14 elementary students have a safe place to go each day to do homework, get a healthy snack and play games until mom and dad finish work.
Leading the group is our director, Elizabeth Vargas, who oversees all classes, enrollment, staffing, state requirements and regulations. All these wonderful services and activities, which make the Community Center operate each day, come at a cost.

Providing quality care for these children is not "cheap." Parents pay tuition, which covers the salaries of our hard-working staff. Our building is 80 years old. This is remarkable, but repairs and renovation can be costly. That's why we are counting on you to support us in our continuing care of Ozona's children. Your financial support of the Ozona Community Center can help us meet this goal. Without the Ozona Community Center, many parents would have to give up their jobs, young mothers would not be able to finish their education, and many children would be left alone after-school without any supervision "We thank all those who have graciously donated to us in the past and continue to do so, as well as those who come help with activities, parties and events. Thank you all for being an important part of 'the Ozona Community Center family,'" said Elizabeth Vargas, director.
The Ozona Chamber of Commerce would like to recognize and thank the Ozona Community Center for the wonderful service they provide to both the parents and the children on Ozona.
The Ozona Community Center is also a part of the United Way Organization. The Ozona Community Center is located at 1604 Primary St., behind Ozona Elementary School. Monetary donations are always welcome and can be mailed to PO Box 41, Ozona, Texas 76943. For more information, call (325) 392-2710 or follow the Ozona Community Center on Facebook.