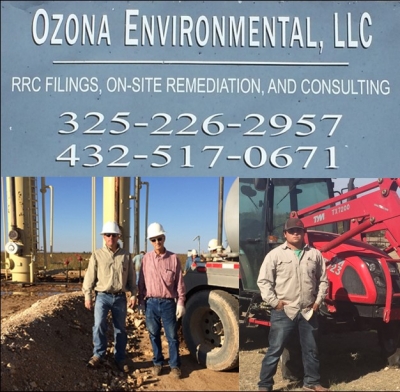 Left to right: Casey Upham-Owner, Roy Don Beauchamp-
Big Spring Field Operations, Daniel (Bono) Lombrano Jr.-
Ozona Field Operations
Business of the Month
The Ozona Chamber of Commerce recognizes Ozona Environmental as our Business of the Month
Ozona Environmental, LLC is a Texas-based bio-environmental company with its main office in Ozona. "We raise bacteria to be used in bio-remediation of soil and water. The product is also used to enhance crop production and promote animal health. Our product is listed with the Organic Materials Review Institute (OMRI)," said owner Randy Upham.
The company was started by Randy Upham in 1989 with Casey Upham joining the company in 2002. Randy was a science major at Baylor University and graduated from New Mexico State University. Casey graduated with a bachelor of science degree in bio-environmental science and a master of science from Texas A&M University.
"Currently, Ozona Environmental is very involved in the oil and gas industry. We work with drilling and service companies to clean up spills and remediate soils," said Randy.
The company has offices in Ozona and Big Spring and at this time is working a territory including Pecos, Ozona, Garden City, Midkiff, and Big Spring areas.
The Ozona Chamber of Commerce would like to recognize Ozona Environmental, LLC for their contributions and efforts to preserve the land, water and animal health in and around Crockett County.
You can reach Ozona Environmental, LLC by calling 325/392-2315.