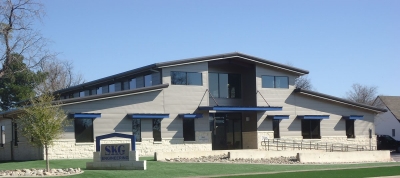 Business of the Month
Ozona Chamber of Commerce
recognizes
SKG Engineering, LLC
as our Business of the Month
SKG Engineering is a multi-disciplinary consulting firm in San Angelo, Texas, that offers a complete package of engineering, surveying, environmental, laboratory, and construction testing services. SKG Engineering has the experience and expertise to handle a variety of projects in an efficient, professional manner.

In January 2004, SKG Engineering purchased the interest of SK Engineering, which began its operations in 1977 as a consulting engineering and surveying company. Since then, their services have expanded to include civil and structural design, geotechnical investigations, property and design surveying, land development, and construction administration. Environmental consulting, site assessments, floodplain and drainage studies, laboratory testing, and construction material testing services are also some of the services provided by SKG Engineering.

SKG Engineering's mission is to provide their clients with innovative engineered solutions with an emphasis on quality, cost and time. Their staff of over 40 employees is dedicated to providing pragmatic, innovative solutions and will uphold the highest professional standards while providing a quality service delivered on schedule and within budget.

SKG Engineering has completed many successful projects throughout Texas for a myriad of individual, industrial, commercial, municipal, and other governmental clients. The company has worked on numerous projects in Crockett County over the years including the Crockett County Wellness Center, the Vehicle Maintenance Facility, and the Crockett County Jail.
The Ozona Chamber of Commerce would like to recognize SKG Engineering for their commitment to provide the best possible service to the residents of Ozona and Crockett County.

SKG Engineering is located at 706 S. Abe Street, San Angelo, TX , 76903. For more information you may contact them at 325/655-1288, by fax at 325/657-8189, by e-mail contactus@skge.com, or visit www.skge.com