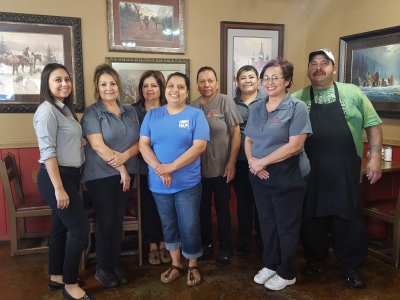 Left to Right: Manager Laura Borrego, Belinda Veloz, Lisa
Mendez, Alma Medina, Mario Rios, Vanessa Tobar, Melinda
Galindo, and Santiago Vargas. Employees not shown are
Leandra Hernandez, Zoe Jones, Elizabeth Reyes, Maria
Rodriguez, Laura Damian, Joe Borrego, Jacob Talamantez
and Kaylen Hernandez
Business of the Month
The Ozona Chamber of Commerce recognizes The Café Next Door as our Business of the Month.
The Café Next Door was purchased and reopened by owner Jane Richardson in March 2014. "There are a limited number of restaurants in Ozona, so Jane wanted to maintain something local for the community," said Manager Laura Borrego.

"Probably 75% of our business is made up of travelers who come off the interstate, but we still have a number of local regulars that come in every day. Since I have been managing the restaurant, I am amazed at the number of local people who have actually never stopped in. We want all residents of Ozona to know that our goal is to provide a warm and welcoming atmosphere for everyone," said Laura.
"We have 15 employees here, all of which have been here for at least a year. We work very well together and very hard at providing the best service and family-style cooking. The most requested item on the menu is the Chickado Salad which is a bed of lettuce topped with chicken salad stuffed in an avocado and garnished with celery and carrots. The second is our Pattie Melt sandwich and the dessert most requested is the coconut cream pie. We offer daily soups, vegetarian, gluten and dairy-free options as well.
If you are looking for an unbiased opinion about our restaurant, we invite you to check out Trip Advisor and Yelp for the positive reviews we are very proud of."
The Café Next Door menu includes a variety of salads, sandwiches, house favorites such as chicken fried steak, steak fingers or pork chops, Mexican food, a kids korner menu and breakfast served until 11am daily.
The Café Next Door is now also offering catering services. They have catered to the Wounded Warriors visiting Ozona, the middle school and the National Junior Honor Society.
The Ozona Chamber of Commerce would like to recognize The Café Next Door, the staff and owners for their hard work. We would like to recognize their commitment to provide a product and service which the community of Ozona can be proud.
The Café Next Door is located at 502 14th Street and open seven days a week from 6 a.m. to
9 p.m. For more information you can reach them by calling 325/392-3560 or emailing: café@richardson@dq.com or visit their Facebook page: The Café Next Door.