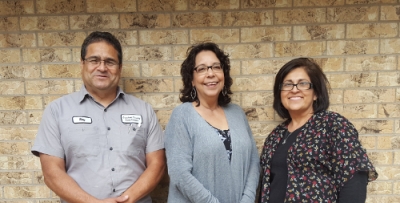 Business of the Month
The Ozona Chamber of Commerce recognizes the Country Club View Apartments as our Business of the Month.
Brinton Investments, LLC, owned by Mark & Carol Brinton, purchased Country Club View Apartments in Dec. 2017. "We felt an immediate connection to the community and are excited about the opportunities in Ozona," said owner Carol Brinton.
"We just completed the renovation of all 19 units and our next project is to re-pave the parking lot. Upgraded laundry facilities are also in the works. Our current tenants are mostly related to oilfield and corporate workers, but we would like to interest local residents to come check us out as well. Each apartment has two bedrooms, both furnished with queen beds, nightstands, a walk-in closet and 1 full-sized bath is provided.

The living area includes a couch, loveseat, coffee & end tables, and a wrap-around desk. Our upgraded kitchens are equipped with stainless steel appliances—refrigerator, stove, microwave and granite countertops. A kitchen table with 2 chairs is also supplied. Our current rates are $850 per month with an $850 security deposit. Gas, electric, & water are all included," said Carol.
We are fortunate to have a wonderful property coordinator, Velma Fierro, who is available by phone at (325) 206-0188. She will be happy to make arrangements to show apartments by appointment.
"As a family owned business, we plan to continue to serve the Ozona community for many years. We are located at 106 Fairway Dr. overlooking the Ozona Country Club golf course. You can find us at www.Facebook.com/countryclubviewapts, our website at www.countryclubviewapts.com or email us at manager@countryclubviewapts.com."
The Ozona Chamber of Commerce would like to recognize the Country Club View Apartments for their commitment to provide a quality product and service of which the community of Ozona can be proud.