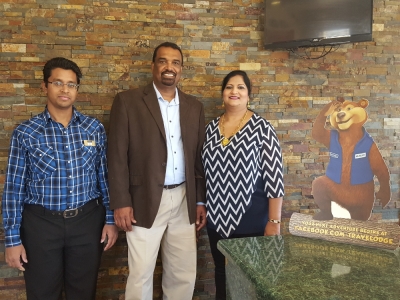 Business of the Month

The Ozona Chamber of Commerce recognizes the Travelodge as our Business of the Month.

The Travelodge, a "family motel" is owned by Ganga and Prem Dharam, originally from the Fiji Islands, and now live in Midland, Texas. "We are really thankful to everyone in Ozona for their continued support. We are very proud to be receiving local referrals which mean that we have gained support from the town. We would like to thank all of our guests and everyone in Ozona who have shown us their support, "said owner Ganga Dharam. "We would also like to thank the Methodist church, the Ozona Sheriff and Fire Departments and the Chamber of Commerce for their continued support and cooperation."

Travelodge is a franchised motel by Wyndham Worldwide. Travelodge Ozona has been owned by Ganga Dharam since June 2014, and is currently managed by Aadi Singh and his family.

All of the rooms at the Travelodge have been remodeled and offer amenities like microwaves, refrigerators, coffee makers, and pillow-top mattresses to make their guests stay and trip comfortable. ADA accessible rooms are also available. Bedding and pillows have been approved by Wyndham / Travelodge. The property offers free high-speed Internet access and guests help themselves to a free Bear Bites breakfast. Coffee is available in the lobby along with 24-hour front desk service. Guests are provided with year round BBQ grills for those who would like to cookout.

Travelodge offers 40 guest rooms featuring smoking and non-smoking rooms. They are a pet friendly motel that has assigned particular rooms for pets.

"Travelodge was ranked 6th by the travelers on TripAdvisor in 2016. We were ranked 1st on TripAdvisor in 2017 as a result of our hard work and consistency. Our customer service is always ranked high on travel web sites. We also have leading reviews on TripAdvisor in the Ozona, Texas motels category," said Ganga.

"Travelodge is looking forward to many more decades of serving the community of Ozona. We will continue to provide the same great service and we thank you for your patronage and support," said Ganga.

The Ozona Chamber of Commerce would like to recognize Travelodge Ozona, their owners Mr. and Mrs. Dharam, and Manager Aadi and his family for the all of their hard work and persistence. Your commitment has resulted in a product and service of which the community of Ozona can be proud.

Travelodge is located on 8 11th street Ozona Texas next to Ozona United Methodist church and minutes away from Ozona downtown. For more information you can reach them by calling 325/392-2656 or E-mailing: travel.lodge.ozona@gmail.com or by visiting their web site at www.wyndhamhotels.com/travelodge/ozona-texas/travelodge-ozona/overview.