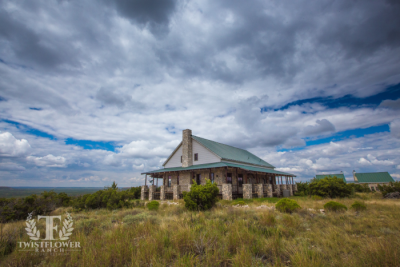 Business of the Month
Ozona Chamber of Commerce
recognizes
Twistflower Ranch Nature Retreat
as our Business of the Month
Twistflower Ranch is a 5,800 acre property located in Northwest Crockett County, owned and operated by Mike and Donna McCloskey. It was originally part of the Harris Ranch, which was "assembled" around 1905. Mike and Donna have owned the ranch since 2000 and have two missions they are in the process of accomplishing.
First, they are rehabilitating the land as close to its condition that existed when Comanche Indians roamed these parts in the late 19th century. They have had contracts with various public agencies, including the Natural Resource Conservation Service, US Fish and Wildlife, and the Soil Conservation Service to eradicate tarbush and creosote bush to allow prairie grasses to again dominate the landscape. They have treated over 700 acres with amazing results, and are currently working on putting in place another contract to continue the treatment process. Additionally, they are enrolled in a Riparian Buffer Zone program that precludes grazing in the riparian zones on the ranch, again allowing the native grasses to flourish.
Second, they operate the ranch as a nature retreat, a place for guests to connect with various aspects of the natural world. They have constructed cabins, a lodge building, a swimming pool and a yoga studio for guests to enjoy. The ranch offers packages that include accommodations in the luxurious cabins, all meals served in the lodge building and access to Twistflower's amenities. On selected weekends, they bring experts to the ranch to conduct "event" weekends. These include a tour of the Native American sites on the ranch by a professional archaeologist. Guests are shown "grind holes" that the natives used to process various seeds, nuts and roots for their consumption, midden mounds where the natives cooked their food, circular rock foundations that were used for wiki up shelters, flint outcrops and knapping areas that were used to produce arrowheads, spears and scraping tools, and rock art that has been dated to be 2,000 years old. The archaeologist discusses all aspects of the lives of the Native Americans who were present in the area as long as 8,000 years ago.
Another event is a Nature Photography Weekend, conducted by a professional photographer. Guests learn all aspects of photographing wildlife, plants and landscapes. Guests spend time in a photography blind adjacent to a pond fed by a well powered by a solar pump. The pond has been present consistently for over fifteen years so has come to be seen by wildlife as an oasis in the West Texas desert setting. It attracts dozens of species of birds, foxes, bobcats, skunks, turtles, badgers, mule and whitetail deer, javelina, and other mammal species. The photographer teaches how to take advantage of the cliffs and canyons on the ranch to produce stunning landscape photos.
Our third event weekend involves a professor from Angelo State University who is an expert on birds. He conducts a bird-banding session at the same solar pump powered pond. It is a chance for guests to see birds "up close and personal" as he measures, weighs and bands the birds. Over sixty-five species of birds have been banded at Twistflower, and over one hundred species have been identified. Guests who have "birded" at High Island, Texas, and Costa Rica have been impressed with the quantity and variety of birds such as Painted Buntings, Varied Buntings, Yellow Breasted Chats and many others that are present at Twistflower.
We have hosted guests from as far away as Vermont, Florida and California, as well as sixteen other states. We can host family reunions, corporate retreats, friend's weekend getaways, mother daughter/son weekends, or any other group gathering. Visit our website at www.twistflowerranch.com to see details about the ranch and its wonders.
"We are honored to have been selected as Business of the Month by the Ozona Chamber of Commerce. Hope to see you soon," said Mike McCloskey.
The Ozona Chamber of Commerce would like to recognize the Twistflower Ranch Nature Retreat for their commitment to local land preservation and for their providing a quality service to county residents and travelers.
For more information you may call 512/516-1750, e-mail mike@twistflowerranch.com, visit their website at www.twistflowerranch.com, or Facebook: Twistflower Ranch.