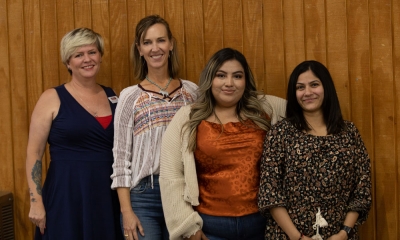 Left to Right: Heather Gallagher, PTA,
Gina Karr, PT, Adult Therapy Director,
Elisa Tambunga, Office Coordinator,
Tulsi Patel, Technician
Staff not featured: Luz'ce Anchondo, PT,
Josh Tanner, Employer Services Director
Business of the Month
The Chamber of Commerce
would like to recognize
West Texas Rehabilitation Center
as our
Business of the Month
Community... one simple word with a very important meaning. For the special people that make up Crockett County, community is what it is all about, and West Texas Rehabilitation Center is so proud to be a part of this amazing community since 1998 when the Ozona facility was established. West Texas Rehab of Ozona, located at 908 1st Street, is an outpatient facility that offers employer services, physical therapy and hospice care to children and adults throughout Ozona and the surrounding area.
"West Texas Rehabilitation Center is proud to have been a part of the Ozona community for the past 23 years. The incredible support from this community has allowed us to expand our mission of improving the quality of life of those we serve regardless of financial circumstance to thousands of children and adults in need of rehab and hospice services in the Ozona area." Scott Jameson, Chief Operating Officer.
In Physical Therapy we treat a wide range of conditions including orthopedic, neurological, pre and post surgical, sports and work injuries. Our therapists are highly certified and specialized to facilitate the best possible outcomes. West Texas Rehab also provides support in the Crockett County School District working with students with an educational need for physical therapy.
Through Employer Services, we provide a system of standardized pre and post offer employment testing called WorkSTEPS, developed to create a medically safe, legally compliant, scientific and objective way of matching a worker's functional capabilities with the essential functions of the job. WorkSTEPS testing can save an employer thousands of dollars and many hours in lost time accidents. "Every test is customizable to the individual employer based on their needs. I highly encourage any company looking to improve or start a work injury program to give us a call." said Josh Tanner, Director of Employer Services. Other servicesoffered through Employer Services include drug and alcohol testing, post accident testing, pulmonary function and respirator fit testing.
West Texas Rehab's, Hospice of San Angelo covers San Angelo and 15 surrounding counties, Crockett County included. When medical treatments do not offer a cure and you or a loved one face a life-limiting illness or injury, it is time for hospice care. Our interdisciplinary team of professionals help patients live each day as comfortable and purposefully as possible while offering assistance to their families and caregivers along the way. "We are able to walk along with our patients and their families during the most tender time in their life. We focus on quality, not quantity, and it is an honor to be invited in," reflected Angie Lane, Director of Hospice Services.
As a non profit organization, we count on the generous support of donors and fundraising. In 2018, the Goat Ropers Gala was started as the signature fundraising event in Ozona. This unique and exciting event includes a horseless goat roping followed by a dinner and dance at the Crockett County Community Center. The funds raised go straight back to the Ozona facility to assure current and future patients will continue to get the care they need. This year's GRG was held on September 11th with plans to host again in September 2022...so stay tuned for that date!
There are other ways you can help by making a donation, memorial or honorarium. A capital needs wish list is available for those wishing to donate equipment or other special items. We also have employment, internship and scholarship opportunities.
The Ozona Chamber of Commerce would like to recognize West Texas Rehabilitation Center for their ongoing efforts to provide quality service and exceptional health care to the residents of Crockett County and the surrounding areas. West Texas Rehab can also be found on Facebook and Twitter. For more information about donations, events or services available, please visit our website at WestTexasRehab.org or call 325-392-9872. Thank you Ozona for letting West Texas Rehab be part of your community!