---
CROCKETT COUNTY MUSEUM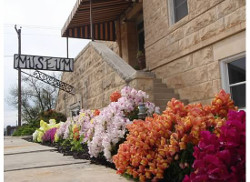 Dedicated to sharing and preserving history, featuring an award winning Indian Exhibit, visitors will leave this three story period museum feeling as if they have truly traveled back in time, beginning with the Paleo-Indians. Let your imagination take you back as you walk through the general store, bank, saddle and school rooms. Back to a time when mammoths roamed the county as you view their bones. Artifacts, memorabilia, tools of a working cowboy and much more. Be sure to take a few minutes to browse in the gift shop. www.ozonamuseum.com.
Hours are Monday thru Friday
9:00 a.m. to 5:00 p.m.
Closed on all County observed holidays.
$3.00 per person over 5 years of age. Children under 15 must be accompanied by an adult.
---
DAVY CROCKETT MONUMENT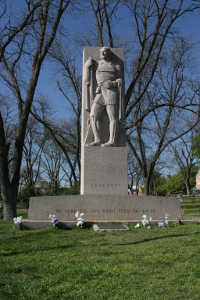 David Crockett was born in Tennessee on August 17, 1786 and he died, a hero, at the Battle of the Alamo in San Antonio, Texas on March 6, 1836.
A memorial to David Crockett stands at the south end of Ozona's town square. Our county, formed in 1875, was named in honor of the Texas hero.
The statue was placed on its base on December 31, 1938. The granite statue was carved from 2 slabs of granite weighing nearly 20 tons. Inscribed at the base of the statue is Crockett's motto, "Be sure you are right, then go ahead."
Visitors from throughout the world have been photographed at the Davy Crockett Monument.
---
"THE TIE THAT BINDS" SCULPTURE
This is a memorial to the pioneer families that came to settle this land and those that followed. It serves to remind us of the determination and perseverance these ancestors embodied as they looked ever westward until settling here in Crockett County. It was sculpted by Judy Black, a native of Crockett County, and is cast in bronze in life-and-a-quarter size. It may be found in the center of the town square.
---
Designed by Texas pioneer architect, Oscar Ruffini, this American Gothic style building was completed in 1902 for a cost of $30,000 and replaced the earlier wooden frame courthouse. Listed on both the U.S. National Register of Historic Places and the Recorded Texas Historic Landmarks, this building served the local county government and was also an early gathering place for community functions, including cowboy dances, box lunches, and roundup celebrations. The limestone materials used to construct the courthouse were quarried from the local Myers and Couch estates. Still used in county government today, the building underwent a total restoration that was completed in 2011. Located on the town square, the courthouse is just one of several buildings in the area recognized with Texas historical markers.
---
CROCKETT COUNTY HISTORICAL MARKERS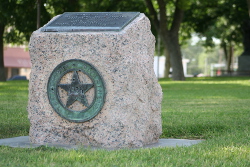 Ozona and Crockett County are rich in history. With dozens of historical markers commemorating events dating back centuries throughout the county, you can take a step back in time. Travel to these markers and find yourself standing in the places visited by Native Americans, Spanish explorers, soldiers and pioneers. Find a list of Crockett County's markers here!
---
HUNTING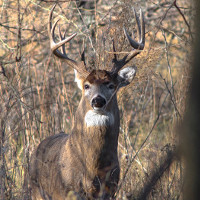 With 1,800,000 acres and only one town, Crockett County offers those interested in hunting sports ample opportunity to practice their skills. Leases may be obtained on numerous ranches where animals, including deer, quail, turkey, javelina and more, may be hunted. These leases range from a single day to an entire season with many different terrains and facilities offered. A hunting lease availability list may be obtained by contacting the Ozona Chamber of Commerce at (325) 392-3737 or by checking the Hunting Leases Page.
---
ESCONDIDO DRAW RECREATIONAL AREA (EDRA)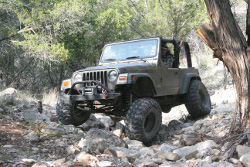 The Escondido Draw Recreational Area (EDRA) is a 3,500 acre Off Road Vehicle riding area. It is open to the public where all-terrain vehicles, side by sides, dirt bikes, and 4-wheel drive vehicles are ridden. Our 110-mile trail system offers varying degrees of difficulty from least difficult to very difficult. The trails are marked and there are maps available. If you want a challenge you can get it here.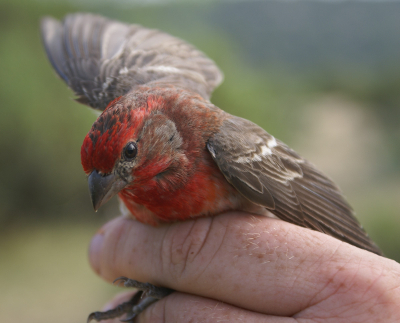 Come see our birds. We have over 100 documented bird species available – click here for the list. You can also see a list of probable birds that might be found. The Black Capped Vireo is an endangered species which has inhabited and is protected in the park. Breeding season is March through August. The park invites all outdoor activities, i.e. primitive camping, hiking, photography, and stargazing. We would be pleased to host your special event no matter what type. RV camping sites are available with 50 amp electric power, potable water, septic, and toilets/showers.

This is the place to get away from it all - 30°35'06.0"N 101°34'58.4"W. Cell phone service is very limited in the park. Please plan accordingly for backcountry riding. Call for reservations - click here for detailed driving instructions and contact information. Reservations made all year around. For most current info click EDRA's Facebook page. For general information visit www.escondidodraw.org or www.texasmotorizedtrails.com.

EDRA is also proud to announce the Texas Water Development Board has installed a weather station on our grounds, which will be up and running soon. You are invited to go to www.texmesonet.org to see all the other stations which are already online.
---
THE EMERALD HOUSE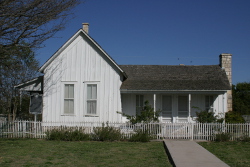 Although the history of the structure is unrecorded, it is known that the house was originally built in the town site of Emerald, which was nine miles east of the present site of Ozona. Emerald was established in 1889 as Crockett County's first settlement.
It was the colonization project of railroad agent T. A. Wilkinson. When Crockett County was organized formally in 1891, an election was held to determine the site of the county seat. Emerald lost its bid to the newly developing area that became the site for Ozona. Within a few years, many of Emerald's buildings, including this house, were moved to the new county seat. As a result, Emerald eventually disappeared. This house was located on one of Ozona's main streets until 1981, when it was moved to its present site in the county park. It has been owned by many of the town's prominent citizens through the years, including E. M. Powell, Phil Perner, W. A. Cochran, George L. Harrell, J. W. Friend, and E. B. Deland.
---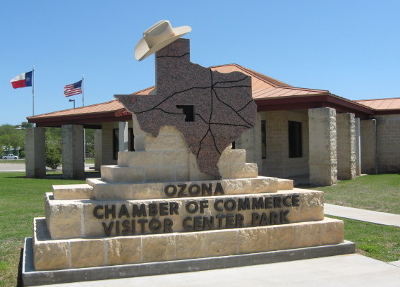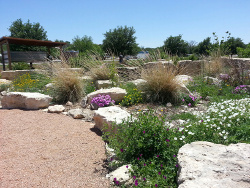 CROCKETT COUNTY INTERPRETIVE TRAIL & VISITOR CENTER PARK
This exhibit is an interpretation of plant material in its native habitat within a 100 mile radius of Ozona. The trail includes a Rain Harvest Exhibit with signage on the process of collecting water for landscaping, livestock watering or home use. There is also a wildlife viewing area and a watering hole for birds and butterflies. Located at the Ozona Chamber of Commerce and Visitor Center (the intersection of I-10 and State Hwy 163 S).
For more information, please visit our Interpretive Trail page.
---
LANCASTER HILL SCENIC DRIVE & OBSERVATION POINT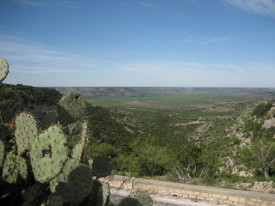 About 30 miles west of Ozona you can enjoy a breathtaking view of the Pecos River valley from the roadside picnic area and observation point, then drive the winding road to the bottom of the valley where you will see a narrow metal overhead bridge as you cross the famous Pecos River. Along the way, you will pass the Fort Lancaster State Historic Site listed below. Take Interstate-10 west to exit 343, then turn left onto Texas Highway 290 West toward Sheffield. The picnic area and observation point are just minutes away.
---
FORT LANCASTER STATE HISTORIC SITE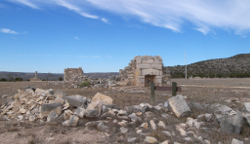 The 82-acre park was originally donated to Crockett County in 1965 by the Meadows and Benckenstein families for preservation and public use of the site and was transferred to the Texas Parks and Wildlife Department in 1968. Today it is managed by the Texas Historical Commission. Originally established as Camp Lancaster in 1855, the fort was strategically located on the military road between San Antonio and El Paso, near an important river crossing which an early surveyor called Indian Ford. Fort Lancaster was one of four posts placed to protect the route. At the height of development, it consisted of 25 permanent buildings and had an average complement of 72 men and four officers. During the Civil War, the fort was abandoned by the federal troops to be manned for a very brief period by the W. P. Lane Rangers (Texas Rangers). Company K of the 9th Cavalry (Buffalo Soldiers) occupied the Fort in 1867 and 1868. During their occupancy, a one day battle was fought on the fort site. Eventually Fort Lancaster was abandoned and never garrisoned troops again.
Located approximately 33 miles west of Ozona, this site is open daily from 9:00 a.m. to 5:00 p.m.
Closed: Thanksgiving Day, Christmas Eve, Christmas Day, New Year's Eve and New Year's Day
Facilities include Visitor Center, Picnicking, Trails, Nature Trail and Wildlife Observation, Meeting Room and Photography.
For more information, visit www.visitfortlancaster.com, call (432) 836-4391 or email: [email protected]
---
TWISTFLOWER RANCH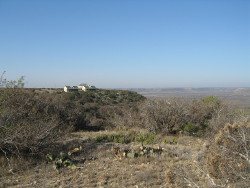 For the nature tourist, the Twistflower Ranch offers an excellent opportunity to get out into the country to observe some of the local wildlife. It also offers star gazing into a night sky that is 20 miles away from city lights. You can hike, ride bicycles, swim, bird watch, and observe over 100 different species of wildflowers. Archaeological tours allow you to visit Native American sites dating back thousands of years. For more information visit www.twistflowerranch.com.
Thinking about visiting the area?
Learn more about Ozona and Crockett County
when you visit our Tourist Information page.