Crockett County Courthouse, Ave. D, was completed in 1902 at a cost of $30,000.
First Commissioners' Court Meeting, Ave. D, convened under the large oak tree on July 22, 1891. Plaque located at the base of tree at First Baptist Parsonage.
Crockett County Jail, Ave. D east of Courthouse, was built in 1892 of stone quarried nearby.
First Water Well, Ave. D at First Baptist Church, was drilled in 1891 and became the focus for early life in Ozona.
Water System, Water Works Drive, fed by a well dug for E.M. Powell who laid out town and donated water well, storage cistern, windmill and land for public buildings.
Heritage Building (school), Ave E, completed of native limestone in 1912 as the town's first permanent school building.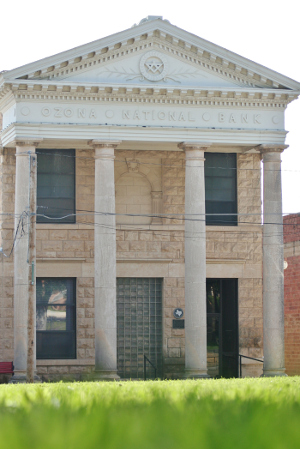 Old Ozona Hotel, (now Kerbow Funeral Home), 512 E. 9th Street, built in 1893 to board teachers, visiting athletic teams and business visitors to the city.
Old Ozona National Bank Building, Ave. E, the county's first financial institution, was constructed in 1905 of native stone.
The Ozona Stockman, Ave E., weekly newspaper has provided continuous coverage since 1892.
The Perner House, Ave D., moved to the present site from Emerald in 1893.
The Emerald House, fair ground park between IH-10 and U.S. 290, moved to Ozona from Emerald townsite.
Fort Lancaster, U.S. 290, 36 miles west of Ozona, established in 1855 to protect travelers on the Old Government Road.
Old Government Road, Lancaster Hill roadside park 30.5 miles west of Ozona on U.S. 290, linked Army posts between Fort Clark and Fort Stockton.
Fort Lancaster, C.S.A., town square, 11th Street, erected as memorial to Texans who served in Confederacy at Fort Lancaster.
First Producing Oil Well, junction of SH 137 and U.S. 190, 22 miles northwest of Ozona, came in at a depth of 2,647 feet in 1925.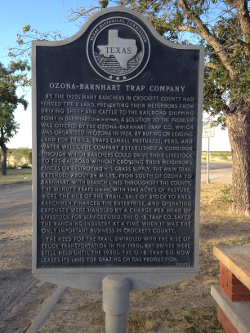 Ozona-Barnhart Trap Company, SH right of way 7 miles north of Ozona.
High Lonesome Stage Stand, roadside park 9 miles north of Ozona on SH 163, was the 20 mile point of the 86 mile mail line from Ozona to San Angelo. Built in 1902, it served one of Texas' last commercial stage lines.
Comstock-Ozona Stage Stand, SH 163, 20 miles south of Ozona, was the first stop on a passenger and mail line connecting Ozona with the Southern Pacific railhead at Comstock 80 miles away.
Parker Ranch Home, County Road 310 2 1/2 miles from Iraan, is a Spanish Colonial Home built in 1929 by Mr. and Mrs. O. W. Parker.
Thinking about visiting the area?
Learn more about Ozona and Crockett County
when you visit our Tourist Information page.