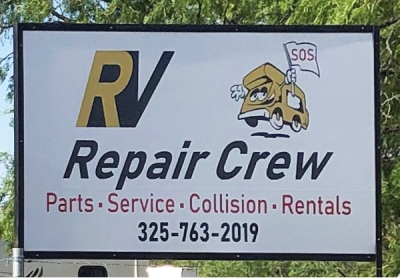 Business of the Month
The Chamber of Commerce
would like to recognize
RV Repair Crew
as our
Business of the Month
The Ozona Chamber of Commerce would like to recognize RV Repair Crew as our Business of the Month.
RV Repair Crew was started in 2017 in San Angelo by Jake Golden and Wesley Thomason with a combined experience of 23 years in the industry.
"Our shop is located at 9005 Knickerbocker Road, in San Angelo, and has a fully stocked parts room. In addition our facilities can handle repairs of any nature. We specialize in collision damage and insurance jobs and can handle all of your furnace and air conditioning needs as well as plumbing and electronics," said Jake Golden. RV Repair Crew can work on 5th wheels, Toy Haulers, Trailers and Winnebago's of all make and models.
"RV Repair Crew can service any of your needs whether they are on site, in shop, or rentals. We are mobile and service all of the Concho Valley and surrounding areas including Crockett, Sutton, and Kimble county," said Wes Thomason.
The Ozona Chamber of Commerce would like to recognize and thank the RV Repair Crew for the invaluable service they provide to our residents and workers who are temporarily staying in Ozona.
You can reach RV Repair Crew and call to set up an appointment at (325)763-2019 or e-mail them at rvrepaircrew@gmail.com.