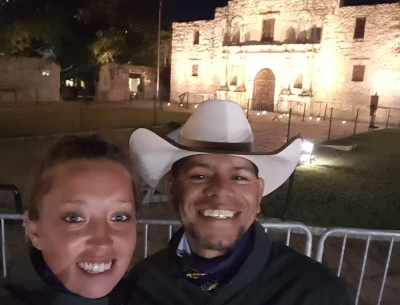 Business of the Month
The Chamber of Commerce
would like to recognize
Alejandro Tree Service
as our Business of the Month
Alejandro Tree Service has been in business since 2008. It is a family-owned business passed down from generation to generation, with a combined 45 plus years of experience. With all the family members working together, we strive to make our customers happy. Alejandro Tree Service settled down in Ozona in 2014, and this great community became home to us. We take tremendous pride in satisfying our customers' needs, likes and wants.

Brittney Alejandro had the business passed down to her from her father, Floyd Preece. Whether it is commercial or residential work, they have been working together to do the best they can to serve their customers. There is never a job too big or small! If it's work, we are happy to help! We also travel to provide services for many customers. We are located at 512 Avenue J in Ozona, Texas. The yard and sawmill are located at 1201 6th Street in Ozona, Texas. For all your tree removal, trimming, pruning, planting and landscaping needs, don't hesitate to call us for a free estimate at 830-900-4232 or 830-279-6187.

The Ozona Chamber of Commerce is proud to recognize Alejandro Tree Service for their efforts to provide quality service to the residents of Ozona and the surrounding area.