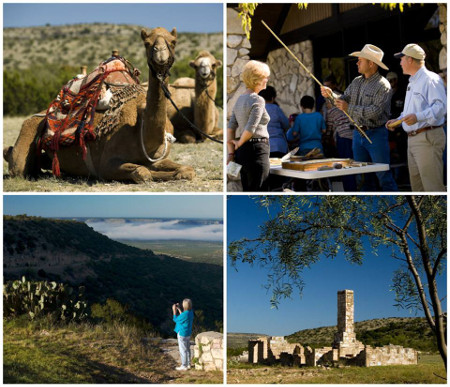 This 82-acre park was originally donated to Crockett County in 1965 by the Meadows and Benckenstein families for preservation and public use of the site and was transferred to the Texas Parks and Wildlife Department in 1968. Today it is managed by the Texas Historical Commission. Originally established as Camp Lancaster in 1855, the fort was strategically located on the military road between San Antonio and El Paso, near an important river crossing which an early surveyor called Indian Ford. Fort Lancaster was one of four posts placed to protect the route. At the height of development, it consisted of 25 permanent buildings and had an average complement of 72 men and four officers. During the Civil War, the fort was abandoned by the federal troops to be manned for a very brief period by the W. P. Lane Rangers (Texas Rangers). Company K of the 9th Cavalry (Buffalo Soldiers) occupied the Fort in 1867 and 1868. During their occupancy, a one day battle was fought on the fort site. Eventually Fort Lancaster was abandoned and never garrisoned troops again.
Located approximately 33 miles west of Ozona, this site is open daily from 9:00 a.m. to 5:00 p.m.
Closed: Thanksgiving Day, Christmas Eve, Christmas Day, New Year's Eve and New Year's Day
Facilities include Visitor Center, Picnicking, Trails, Nature Trail and Wildlife Observation, Meeting Room and Photography.
For more information, visit www.visitfortlancaster.com, call (432) 836-4391 or
email: [email protected]
Driving Directions from Ozona, TX:
Drive west on Interstate 10 for 22 miles
Exit 343 and turn south (left) on State Highway 290
Continue south for 9 miles
Stop at scenic observation point & picnic area for photos
Continue south down Lancaster Hill on SH 290 for 2 miles
Turn right and enter the Fort Lancaster State Historic Site
Retrace route to return to Ozona
Optional additions (Adds about 2 hours) - Pecos River Truss Bridge & Scenic Drive:
When leaving Fort Lancaster State Historic Site, turn right onto SH 290
Continue west for 6 miles to historic metal truss bridge over the Pecos River (built in 1932)
Stop for pictures, but be careful to watch for traffic because this road is still very active!
Continue west on SH 290 for 4 miles to the quaint town of Sheffield
Continue west on SH 290 for 5 miles to I-10
Cross I-10 and continue north on SH 349 for 13 miles to another quiet town - Iraan (Note: For the young at heart, Iraan has an Alley Oop Fantasy Land Park and museum dedicated to V.T. Hamlin, the creator of the famous cartoon strip. www.iraantx.com/tourism )
Turn east (right) on US 190 and continue 28 miles to the junction with SH 137
Continue east on US 190 for 2 miles
Follow SH 137 when it splits from US 190 toward the south (right)
Continue east for 17 miles on SH 137
Turn south on SH 163 and continue 2 miles to return to Ozona
Reminders:
There are no fuel stations or convenience stores along this route, so make sure you have a full tank of gas, some fresh drinking water and plenty of snacks.