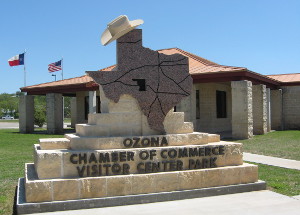 Using the puzzle and your favorite Global Positioning System (GPS) device, you follow the coordinates to find clues which help you solve the puzzle. Designed to help you explore the downtown area and other important places in the community, each clue will teach you a new and interesting fact about Ozona and Crockett County.
Stop by the Ozona Chamber of Commerce & Visitor Center to pick up a copy of the puzzle,
OR
Open and print your own copy of the Discover Ozona! GPS Crossword Puzzle Game.
GPS coordinates may be as far as 16 ft. from the object you are looking for, so be sure to look around! You will save yourself some steps by following the numerical order of the clues. The majority of the locations are ADA compliant.
Please do NOT drive while operating your mobile GPS device! We recommend that you use the Buddy System, if possible.
The puzzle will take at least two hours to complete. Begin the tour by parking on the town square and HAVE FUN!
Thinking about visiting the area?
Learn more about Ozona and Crockett County
when you visit our Tourist Information page.