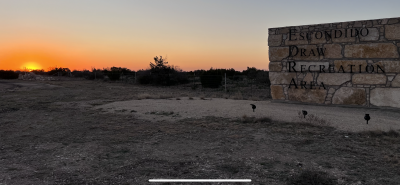 Business of the Month
The Chamber of Commerce
would like to recognize
Escondido Draw Recreation Area
as our Business of the Month
Escondido Draw Recreation Area (EDRA) is a 3,406 acre Offroad Recreational Park developed in 2007 by the Texas Motorized Trails Coalition (TMTC). Funding was provided by TMTC, Texas Parks & Wildlife and the Federal Highways Fund. The park is located approximately 27 miles southwest of Ozona, Texas in Crockett County at 3285 CR 406. The GPS Location is 30.589455, -101.572051. In 2000, TMTC also developed a sister park - Barnwell Mountain Recreation Area in Gilmer, Texas. Both parks offer Dirt Bike, ATV, UTV, Jeep and Crawler Trails along with Hiking, Bird Watching/Wildlife Viewing, Star Gazing and Camping.
EDRA has completed many improvements on the property. We have cut over 80 miles of Motorcycle, ATV, UTV and Jeep/Crawler trails. We have installed two vault toilets in the riding area with two more to come. Most of the trails are marked with trail signs. Up on top, in the campground area, we have 35 full hook-up RV Sites, designated primitive camps sites and a 70' x 90' enclosed pavilion. The pavilion has eight 20' roll up doors, two large ceiling fans and gas heating. Men's and Women's restrooms/showers with hot and cold running water are located near the pavilion. Our water is processed in our water treatment plant in accordance with TCEQ guidelines. We just completed a new front office with an Ice Merchandizer. We will be installing 25 winch-points near the difficult obstacles on the Jeep/Crawler trails. We will also be adding a loading ramp to load and offload motorcycles and ATV's. An Air-up station is in the works along with adding another 387 acres to the Park. This will allow the addition of many miles of new trails.
Trails can be located on the onX Offroad mapping program. This app can be used at the park to assist you in locating the trail heads and to give you an idea of the difficulty level of each trail. We will be adding six more Jeep/Crawler trails to be completed during the summer of 2023.
EDRA is open to the public for both members and non-members of TMTC. Low-cost memberships can be purchased at the Park to give you access to the riding area at a reduced price. We also sell Texas Parks & Wildlife OHV stickers. Due to the funding we receive from this program, these stickers are a requirement to be able to ride on the trails.
Directions to the park are as follows: take IH-10 Exit 343, turn Southwest on SH290 for 4 miles, turn South on CR406 and travel 7.75 miles and the Park entrance will be on your Left. You can follow the park on Facebook EDRA-Escondido Draw Recreation Area or our website at escondidodraw.org. The Park phone number is (325) 206-4251.