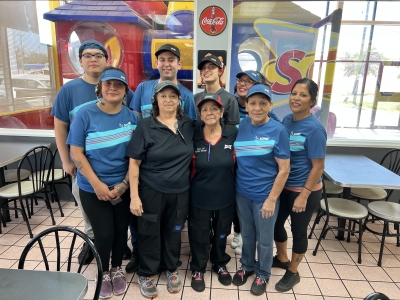 Back row: Raegan Mata, shift leader; Raven Perez,
Assistant Manager; Cameron Rutherford, shift leader;
Alexis Perez, Carhop. Front row: Ilene Ramoz, Carhop;
Selena Newby General Manager; Leti Porras,Kitchen
Manager; Elvira Vasquez, Prep Cook; Joanna Mata, Cook.
Business of the Month
The Chamber of Commerce
would like to recognize
Sonic Drive-In
as our Business of the Month
Sonic was founded by Troy Smith in 1953. Originally known as Top Hat Sonic, in Shawnee, OK. Sonic Drive-In came to Ozona in 2006. The Sonic restaurant chain is owned by Inspire Brands. This store is owned by The Abussab Company.
"I have worked for Sonic over 5 years and have been the general manager for just over one year," said Manager Selena Newby.
"Sonic Drive-In is a quick service restaurant that serves burgers, hotdogs, and a variety of fried snacks. We also serve soft serve ice cream cones, milk shakes, and Sonic blasts.
"Sonic is known for its many drink combinations like the Cherry Limeade and the Ocean Water. Sonic's famous Happy Hour at our location (Store # 5560) is from 2:00-4:00pm every day.
"We also have the Morning Drink Stop, where we offer large drinks for 99¢ from our opening hours (7:00am Monday through Saturday & 9:00am Sunday) through 10:00am." Manager Newby continued.
"Our location is quite different from other Sonics in that we do not have pull up stalls. We are strictly dine-in or drive-thru. We get told often that no one has ever seen a Sonic like ours. This location does offer teachers' fountain drink specials of .99¢ for large and RT 44 drinks during regular hours and during football seasons, if the Mighty Ozona Lions win, we will offer a discount for each point scored up to 40% off for orders over $10 on hometown game nights."
The Ozona Chamber of Commerce would like to recognize Sonic Drive-In for the quality service and tasty products they provide to the community and the travelers who pass through our community.
For more information you may call (325) 392-9501, or visit www.facebook.com/Sonic.Drive.In.5560

.