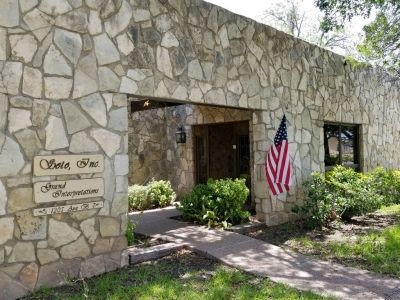 Business of the Month
The Chamber of Commerce
would like to recognize
Soto Inc.
as our
Business of the Month
Soto Inc. is a family business that was incorporated in 1991 by Bob, Ira & Clay Childress. We are located at 1205 Avenue B in Ozona, TX.
"Our company has diversified into many different business ventures. These include ranching, livestock, hunting, oil & gas, and rental property in Ozona," said Vivian Childress.
"Our family has been providing quality home and apartment rentals for 20 years. Within our family business we have four home and apartment rental companies. These are owned by Bob and Vivian Childress 325/392-2382, Ira and Karin Childress 325/277-3445, and Clay and Shelly Childress 325/392-4009.
Over the years we have had the opportunity to employ many local individuals for all phases of our businesses.
Soto Inc. has always supported the Ozona Chamber of Commerce, and we are very grateful for all the work they do on behalf of the citizens of Ozona."
The Ozona Chamber of Commerce would like to recognize Soto Inc. for their professional service provided to Ozona residents and out of town workers.
You can contact the office of Soto Inc. at 325/392-650-9583.