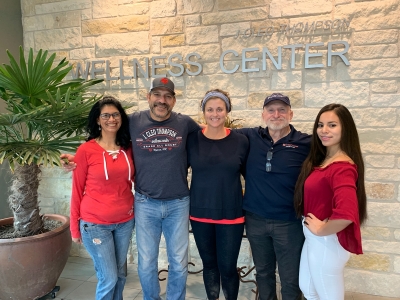 Business of the Month
The Chamber of Commerce
would like to recognize the
J. Cleo Thompson Wellness Center
as our
Business of the Month
The J. Cleo Thompson Wellness Center is so excited and grateful to have been recognized as business of the month!
We survived our first full year and could not be more proud of the success. Memberships have stayed at a steady incline throughout the first 12 months and continue to exceed all expectations. The people in our community have been instrumental in our accomplishments and still have plenty of room for those that have yet to come see us! My staff and I are continuing to grow as a team and absolutely love what we do! Every day is a new experience and learning opportunity for us and the members.
Our classes are growing in variety and accept all people of all ages and stages. The fitness and cardio equipment have been wonderful and are standing up to the test of time and use. We are figuring out what is most popular, likes and dislikes, and what changes and additions are needed in the upcoming year. Nutrition, personal training, and overall health and well being is our favorite topic and our passion. Every single person has a special and unique path in their wellness journey, especially in today's world, and getting to be a stepping stone or a helping hand in that journey makes our cup overflow!
November is the most appropriate month for us due to the fact that without a few persistent angels and all of those in our community who voted yes, this amazing and much needed facility would not be here today. We are so very THANKFUL for YOU!
We wish everyone a wonderful holiday season and will be here with open arms for a great start to a new year and a new you!

The wellness center is equipped with Pre-Core Treadmills, elliptical, recumbent bikes, dual muscle weight machines, free weights, and a swimming pool. Exercise classes include Strength Yoga, Rest Day Yoga, RPM (cycling), Pilates, Water Aerobics, Circuit Training, HIIT, Zumba, Bodyweight, and many more!
You can download the JCT Wellness Center App today to plan and schedule your classes. From this mobile App you can view class schedules, sign-up for classes, view ongoing promotions, as well as view the wellness center's location and contact information. You can also click through to our social pages! Optimize your time and maximize the convenience of signing up for classes from your device!
In addition to wellness equipment, classes, and the JCT Wellness Center App, the center now has caps, mugs, t-shirts, canvas bags and back-packs for sale to benefit the Friends of the Wellness Center.

The Ozona Chamber of Commerce would like to recognize the J. Cleo Thompson Wellness Center and their staff for their dedication to provide the best quality health and wellness services to the community.

For more information you can call 325/392-4620 or e-mail stormi.oglesby@co.crockett.tx.us. You can visit the J. Cleo Thompson web site at www.ozonawellness.com or their Facebook page at: ozonawellness.

The J. Cleo Thompson Wellness Center is located at 103 Medical Drive, Ozona, TX. Hours of operation are 5am to 9pm Monday through Friday, 8am to 1pm on Saturday. Swimming pool hours are 5:30am to 8:00pm Monday through Friday and 8:30am until noon on Saturday.