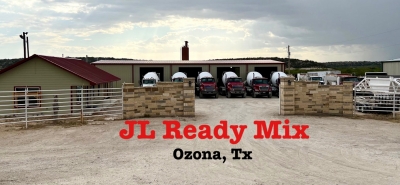 Business of the Month
The Chamber of Commerce
would like to recognize
JL Ready Mix
as our Business of the Month
JL Ready Mix Concrete would like to thank the Ozona Chamber of Commerce for the opportunity of being recognized as the Business of the Month.
Their business consists of providing the best services possible and they are always looking for ways to keep their customers happy. Fortunately, they have a great team that gives the opportunity to make this possible!
JL Ready Mix is the leading provider of Ready Mix in the Crockett County region. With their Volumetric trucks, they have all of the materials segregated, and the trucks are constantly calibrated. Their concrete has been tested, and they mix onsite. They only charge for the actual concrete delivered, and they pride themselves on providing superior service and the highest level of quality control.
They provide services locally and to surrounding areas, including Ozona, Sonora, Sanderson, Iraan, Big Lake, Barnhart, Crane, Rankin and McCamey. Their business hours are Monday-Friday, 8:00 a.m. to 5:00 p.m., but they pour 24/7 to achieve the best results!
"We are extremely thankful and excited to say that our business is expanding!" said owner, Oscar Lopez.
The Ozona Chamber of Commerce would like to recognize JL Ready Mix for the quality service and products they provide to the community.
For more information you may call (325) 392-2404 or (325) 226-4751, or visit www.jlreadymixconcrete.com.