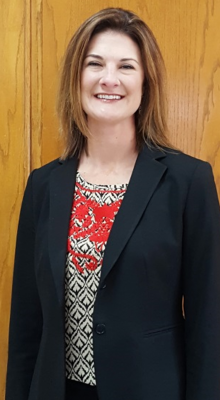 Business of the Month
The Chamber of Commerce
would like to recognize
Jody K. Upham, Attorney at Law
as our Business of the Month
Jody K. Upham opened her law practice in Ozona in January 2005. She renovated the downtown building that was formerly Watson's Department Store on the corner of Avenue E and 11th Street for her offices.
Jody is a solo practitioner with over 17 years of experience in real estate, probate, guardianship, and estate planning. The focus for the firm is on client service. She works closely with judges, real estate agents and brokers, the abstract company, the appraisal district, the tax office and the clerk's office in her daily practice. These relationships are important when it comes to representing clients and dealing with all the parties related to a case or transaction.
"I enjoy the opportunity to find creative solutions for client's problems. Often my work involves building relationships between parties and finding ways to get a result that is best for my client while maintaining relationships. Many clients are dealing with other family members while addressing a legal issue, and maintaining good family relationships after the legal issues are resolved is important."
Jody also serves as the elected County Attorney and represents the state in misdemeanor criminal cases. As a prosecutor, Jody reviews offense reports and files criminal complaints against those accused of committing misdemeanor crimes, such as possession of marijuana, driving while intoxicated, and family violence. In addition to serving the community as a prosecutor, she is also the victim assistance coordinator and helps crime victims deal with the aftermath of being a victim of a crime. Jody works closely with local and state law enforcement agencies to shepherd cases through the court system.
Jody graduated magna cum laude from Texas A&M University with a bachelor's degree in accounting and a master's degree in finance. She then graduated law school from the University of Texas School of Law.
Since moving to Ozona, Upham has been an active member of the community. She is a member of the Ozona United Methodist Church, serves as a volunteer on the Ozona Community Center Board of Directors, and is an adult volunteer with Crockett County 4-H.
"I am honored to be chosen as a Chamber Business of the Month. I enjoy serving the Ozona community and look forward to many more prosperous and fulfilling years practicing here," Upham said.
The Ozona Chamber of Commerce would like to recognize and thank Jody K. Upham, Attorney at Law for her service and dedication to the community.
Jody's private practice is located at 1014 Avenue E. You can reach her at 325/392-5687. The County Attorney's office is located at 909 Avenue D. You may call 325/392-3920 or e-mail [email protected]