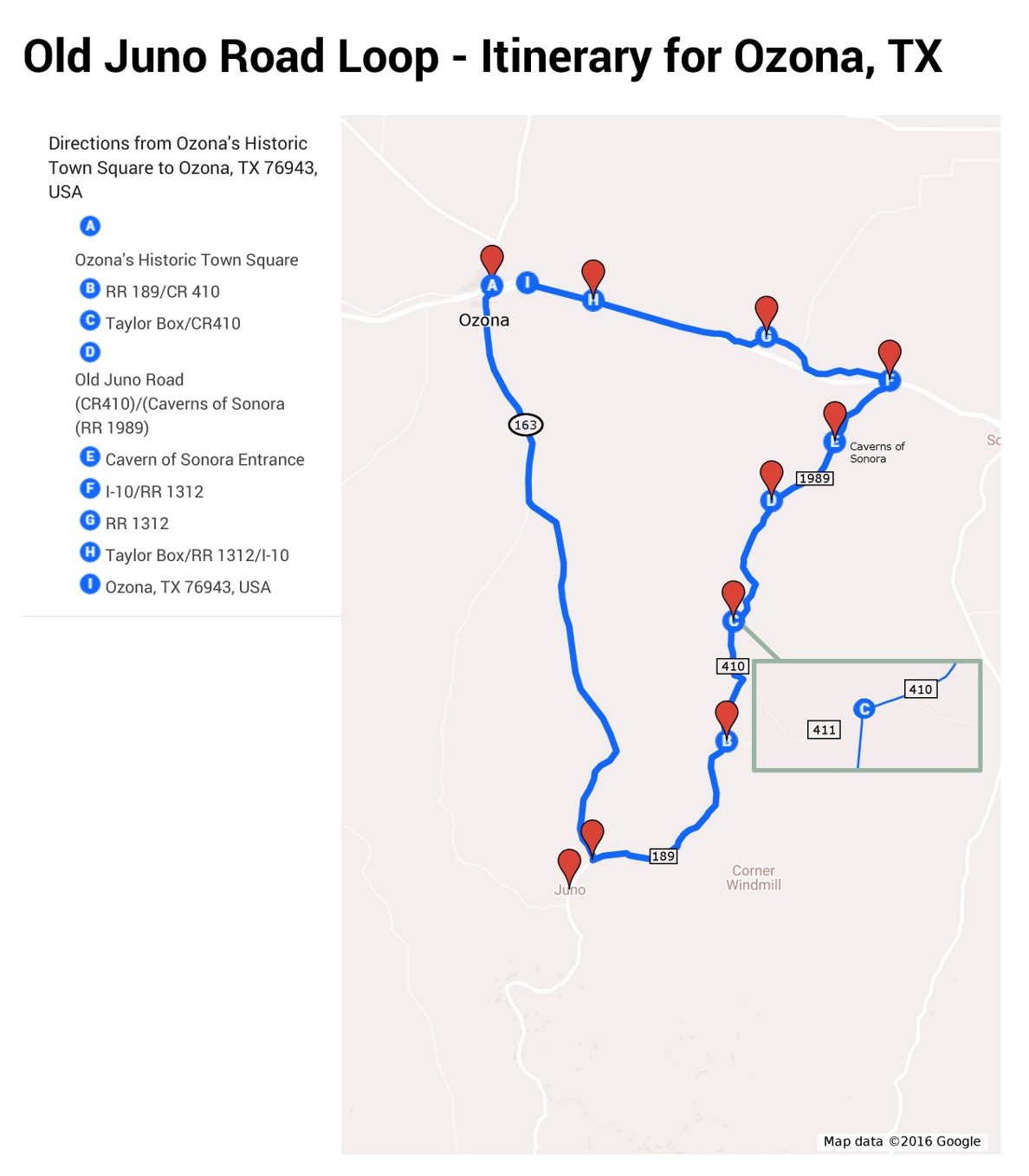 (Click on map above for a printable version)


110 to 117 miles - depending on options chosen
This route follows rural two-lane roads. There are a few options along the way to return to Ozona without completing the loop. You may also use Interstate 10 for the last 27 miles on the return leg to Ozona instead of the two-lane road.
Be sure to pay attention to all warning signs as this loop travels along roads which are used for various ranching and oilfield activities. In some places, sharp and blind curves will be encountered. You will be crossing cattle guards along this route, which means that ranch stock may occasionally be on the roadway. Please drive with courtesy and caution.
Temperatures for this loop can reach above 100 degrees in the afternoon for much of the summer, so this route is recommended for spring and fall. Be sure to check the weather forecasts before you travel because Texas weather can change quickly!
Reminders: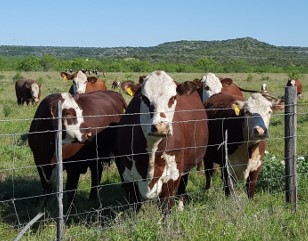 There are no fuel stations or convenience stores along this route until you are 6 miles east of Ozona on the return leg of your journey, so make sure you have a full tank of gas, some fresh drinking water and snacks.
Be aware of the weather conditions. This area is prone to flash flooding.
If you find yourself in a flash flood, do not drive into water. You and your motorcycle can easily be washed downstream in the swift current. Don't Drown, Turn Around! Head for higher ground.
If caught between flooded crossings, remember that flash floods pass quickly. Be patient, the waters will recede soon, usually within an hour or two.
This is a remote and primitive area. The nearest emergency services will be miles away.
Watch out for snakes, insects and other critters that might spoil your fun.
Take plenty of fresh drinking water and use your sunscreen.
There is no reliable cell phone service for much of this loop.
Please remember that 97% of Texas is private property and you will be trespassing if you leave the roadway.
Driving Directions:
Begin at Ozona's Historic Town Square
Drive south on TX Highway 163 for 40.5 miles. Be alert for the intersection with Ranch Road 189 as it is sometimes easy to miss.
Some of the landmarks you will pass along this section
12 miles – The Jack Baggett ranch and home on east (left)
19 miles – Historical marker for the Comstock Stage Stand
21 miles – Eugene Miller Ranch on west (right)
31 miles – Crockett/Val Verde County line (Note: The speed limit drops to 55 MPH at the county line.)
40 miles – Pecos Crossing
40 miles – Historical marker for Hood's Devil River Fight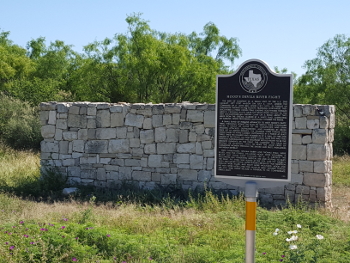 Ranch Road 189 will intersect TX Highway 163 on the east side (left)
At this point you may wish to continue another 3 miles to say that you have visited the Ghost Town of Juno. Afterwards, return to the intersection of Ranch Road 189.
Although Juno was a thriving small community during the late 1880's and early 1900's, there are only a few buildings left in the area to indicate that it ever existed. All of these buildings are privately owned and not accessible to the public.
The site of Juno was deeply flooded during the "drought-breaker" flood in 1954.
Native Americans visited the area for centuries to camp at Beaver Lake created by a small beaver dam which was located approximately 3 miles northeast of Juno. Due to various factors including flooding, the lake eventually filled with gravel and now no longer exists.
Turn east onto Ranch Road 189. If you continue along this route, you will pass over several cattle guards.
If you choose, you may also easily return to Ozona from this point by returning the way you came.
Continue east on Ranch Road 189 for 14.2 miles.
You will encounter several stretches with sharp curves and dips. Pay attention to the posted speed warnings. They really are there for a reason!
Remember: this is not public land so stay on the paved road.
Some landmarks on this stretch are:
3 miles - Cedar Crossing
4 miles – Wilson Crossing
6 miles – Buckley Crossing
9 miles – Ditman Ranch, Taylor Crossing & Epperson Ranch
11 miles – Drisdale Crossing
13 miles – Glasscox Crossing
Turn north (left) on County Road 410, also called the Old Juno Highway.
This intersection is very easy to miss, so watch for the paved road which joins from the north (left) approximately .2 miles past the Val Verde/Sutton County line.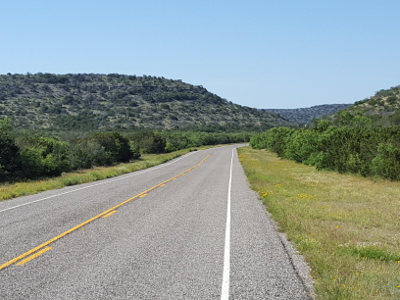 Continue north on County Road 410 for approximately 8.5 miles. This road will come to a T-intersection with County Road 411, which is called Taylor Box Road and also known as the Old Juno Road.
At this point, you have an opportunity to return to Ozona. If you choose to take this route, you will not pass the Caverns of Sonora. Turn west (left) onto County Road 411, also known as Taylor Box Road. Continue on County Road 411 for 25 miles, to Interstate 10. Turn west on the service road just after you cross over Interstate 10. *** Fuel is available here. *** You may choose to drive the last 6 miles on I-10 and take Exit 365. Otherwise, stay on the service road, which will return you to Ozona's Historic Town Square.

Take the Long Road Home:
Turn east (right) onto County Road 410, also called the Old Juno Highway.
Landmarks in this section include:
3 miles – Weitz Ranch – sign is facing north as private road intersects from the east.
5 miles – Cedar Bluff Canyon Ranch on left
Continue east on County Road 410 for approximately 9.4 miles which comes to another T-intersection with Ranch Road 1989. Across the intersection, you will see a corral and stock pens for the Whitehead Ranch.
At this point, you also have another opportunity to turn west (left) toward Ozona on Sutton County Road (SCR) 110, also known as Glasscock Road. If you choose to do so, you will be traveling approximately 14.4 miles back to Interstate 10. This will shorten the loop by about 7 miles and you will not pass the Caverns of Sonora. SCR 110 will wind northward until it passes underneath I-10 and intersects with Ranch Road 1312. Turn west (left) on RR 1312. In approximately 2 miles, you will have access to I-10. If you choose to remain on RR 1312, you will parallel the interstate for about 16 miles, ending back at Ozona's Historic Town Square. Fuel is available 6 miles east of Ozona.

If you wish to complete the longer route, turn east (right) and continue on Ranch Road 1989, also known as the Caverns of Sonora Road. The speed limit is 70 MPH after you cross the next cattle guard.
Continue on Ranch Road 1989 for approximately 6 miles.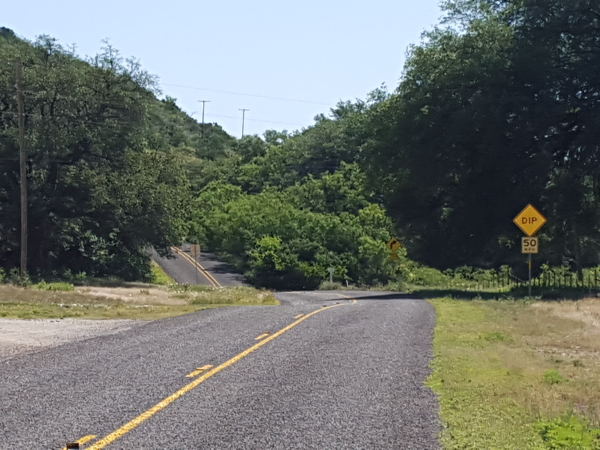 At this point you might want to visit the Caverns of Sonora, one of Ozona's many local attractions. The entrance faces toward the north or the same direction you are traveling and will be on your right. The sign for the Caverns is not prominent, so make sure to pay attention to your mileage and watch carefully or you will miss it. Turn right on Private Road 4468. Continue east on the Private Road 4468 for about 1.5 miles to the Caverns headquarters. Enjoy a tour of the beautiful caverns filled with a myriad of spectacular formations. Guided tours are available from 9:00 a.m. to 5:00 p.m from the Tuesday after Labor Day until the end of February. From March 1st to Labor Day the hours are 8:00 a.m. to 6:00 p.m. Tickets must be purchased at least 30 minutes prior to the departure time. Visit www.cavernsofsonora.com for more information. Return to Ranch Road 1989 and turn northward (right).

Continue on Ranch Road 1989 for 6 miles to Interstate 10.
Cross over Interstate 10 to Ranch Road 1312, the north service road.
Turn west (left) on Ranch Road 1312.
There are two different routes to return to Ozona.
Country Lane Route: Continue on two-lane roads.
Continue west on Ranch Road 1312 for approximately 12.5 miles. At this point you will cross back into Crockett County.
Note: The small building on the east side of the county line at one time was Ozona's nearest liquor store where local residents shopped before the county residents voted to no longer be a "dry" county on June 3, 1988. Up until that time, the residents could not purchase alcohol for off-premises consumption in Crockett County. (Reference Texas Alcoholic Beverage Commission -458).
Continue west on Ranch Road 1312 for approximately 17 miles back to Ozona's Historic Town Square.

Interstate Route: Take entrance to I-10 for the fastest route.
Continue west on Interstate 10 for 27 miles to Exit 365.
Enjoy one of Ozona's many fine restaurants and grab a great night's sleep before trying another of Ozona's itineraries!
Thinking about visiting the area?
Learn more about Ozona and Crockett County
when you visit our Tourist Information page.