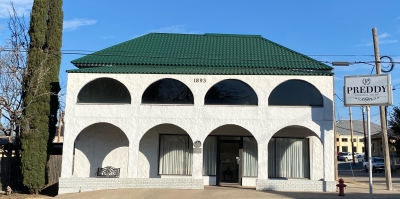 Business of the Month
The Chamber of Commerce
would like to recognize
Preddy Funeral Home
as our Business of the Month
Preddy Funeral Home opened its doors in 1988, and owners and operators Mike and Ninfa Preddy sold the business in 2013 to Kerbow Funeral Home.
In 2021, Bruce Kerbow retired and sold the business back to Mike and Ninfa Preddy with Chuck Preddy assisting them with day to day operations.
The Preddy's are honored to be able to serve the families of Crockett County again and are appreciative to all that entrust them. They are grateful to their trustworthy staff: Chuck Preddy, Raymond "Bear" Borrego, Alda DeHoyos and Adrienne DeHoyos Morgan.
They would like to thank the Ozona Chamber of Commerce for this opportunity in being selected Business of the Month.
Preddy Funeral Home is located at 502 E. 9th Street, in the historic building built in 1893, on the south side of the Square. Their services include: Funeral Service, Pre-need Burial Insurance, Monuments, Cremation, Grief Support, and Memorialization. Someone is available to assist 24 hours a day, 365 days a year. You can reach them at (325) 392-5201 or (325) 392-3730.
The Ozona Chamber would like to recognize Preddy Funeral Home for their efforts to provide quality service in addition to being an asset to the local business community.